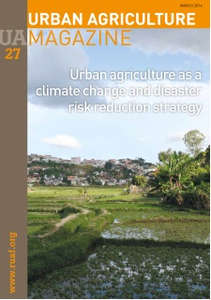 The Urban Agriculture Magazine is an initiative of the RUAF Foundation. It functions as a platform for exchange and discussion of grounded information on urban agriculture: research results, project experiences, and critical analyses of conventional and innovative policies on urban agriculture.
The Urban Agriculture Magazine is published on line in English twice a year. The focus of the Urban Agriculture Magazine is on: "Research into Use" and "Policy to Practice". Subscribers to the Urban Agriculture Magazine receive an email when a new issue is published. The thematic issues of the Magazine can be downloaded in pdf free of charge.
Download the latest edition here!