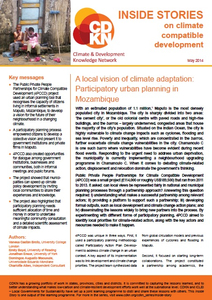 This new report, 'A local vision of climate adaptation: Participatory urban planning in Mozambique' looks at the outcomes of the project, Public Private People Partnerships for Climate Compatible Development (4PCCD).
It ran from 2011 to 2013 and asked: can local views be represented fairly in national and municipal planning processes through a partnership approach? Answering this question required: i) understanding what makes a successful partnership among relevant actors; ii) providing a platform to support such a partnership; iii) developing formal outputs, such as local development and climate change action plans; and iv) disseminating the lessons widely to bring new partners into the process. By experimenting with different forms of participatory planning, 4PCCD aimed to identify local priorities for climate-related action, along with the key actors and resources needed to make it happen.
Key messages from the report:
•The Public Private People Partnerships for Climate Compatible Development (4PCCD) project
 used an urban planning tool that recognises the capacity of citizens living in informal settlements in Maputo, Mozambique, to develop 
a vision for the future of their neighbourhood in a changing climate.
•A participatory planning process empowered citizens to develop a collective vision and present it to government institutions and private firms in Maputo.
•4PCCD also created opportunities for dialogue among government institutions, businesses and communities, both in informal meetings and public forums.
•The project showed that municipalities can speed up climate policy development by inviting local communities to share their experiences and knowledge.
•The project also highlighted that participatory planning needs sufficient allocation of time and money in order to undertake meaningful community consultation and a detailed scientific assessment of climate impacts.
you download the report from the CDKN website here!
ICLEI Africa provided support to the development of the two case studies in Africa, in line with the broader global CDKN project on climate compatible development at the city and subnational level. Check back for updates on the project.