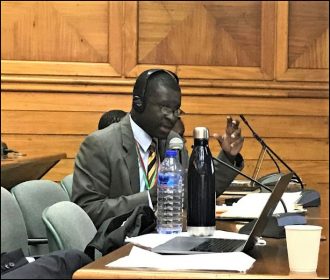 What is the next step required for African cities and subnational governments to accelerate climate action? Africa Climate Week, held from 18 to 22 March in Accra (Ghana), brought together a diverse range of stakeholders from the continent to answer this question ahead of the UN Secretary-General's Climate Summit in September 2019.
As the event was taking place in Accra, tropical cyclone Idai was hitting Mozambique, Malawi and Zimbabwe; many towns and settlements were destroyed, and the estimated 1.7 million people who have been affected will face countless challenges in controlling disease outbreaks, reconnecting services and rebuilding lives in the days and months ahead. With over 750 already confirmed dead, the disaster was a sombre reminder that although Africa has contributed little to the causes of climate change, it is greatly affected by it and must play an integral role in the global fight to tackle climate challenges.
One core theme of the week was cities and local action. Multi-level governance emerged as a key theme to drive action while engaging multiple diverse stakeholders; collaboration cannot wait and climate change cannot be fought by national governments alone. The revision of Nationally Determined Contributions (NDCs) provides a significant opportunity for sub-governments to ensure that their role in climate action is recognised and supported by national governments. ICLEI has an important role to play in reinforcing this message with its network cities, and ensuring their voices are heard in the NDC process.
The United Nations Framework Convention on Climate Change Secretariat (UNFCCC) recognised the following three key outcomes of Africa Climate Week, with inputs from ICLEI Africa:
Climate action needs to be better aligned with development plans. We cannot afford to produce plans that sit on shelves because they are unfunded; aligning climate action with existing plans is essential in ensuring that action is taken while additional resources are secured.
Consistent, reliable and comparable data is required to improve decision making. While a lack of data is often blamed for a lack of strategic action, the private sector and academia possess a great deal of data that could facilitate well informed climate actions and help to quantify the impacts of climate action. It is thus important that governments collaborate with these groups on issues of data collection, access and knowledge sharing. Integrated Monitoring, Reporting and Verification (MRV) systems that work across scales are essential in ensuring a coordinated approach to data collection and interpretation.
Enabling environments must be created and investment for climate action must be increased to support local action.
The third outcome makes clear that for action to be taken swiftly in ways that benefit the most vulnerable, finance needs to flow to the local level, where the impacts of climate change are experienced. ICLEI and partners stand ready to deepen our work on climate finance, both in terms of sustainable public procurement, as well as unlocking additional resources via global climate funds and/ or private sector investment. Part of the solution will be developing high impact but low cost infrastructure (e.g. mobility, buildings, waste management), that will involve funding being disbursed to smaller projects (e.g. non-motorised transport or nature-based solutions), which are often overlooked by current climate finance mechanisms. There is a need for tailored financial instruments (e.g. green and climate-themed bonds, special purpose bonds, crowdfunding) and capacity building of subnational actors to develop bankable projects.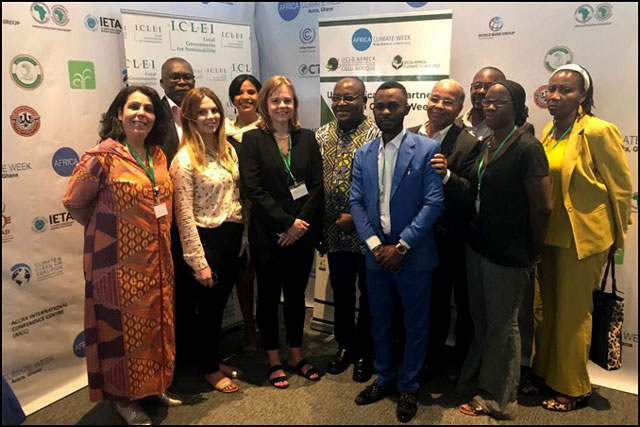 ICLEI Africa and UCLGA at Africa Climate Week
Africa Climate Week highlighted the role of the youth in shaping the future as well as the local solutions that are already being developed for local challenges across Africa. The closing plenary brought to the fore the importance of local governments in providing enabling conditions for local innovation to flourish, and highlighted the opportunity for upscaling and sharing the good work that is already happening on the continent. Ambassador Luis Alfonso de Alba, UN SG Special Envoy for the 2019 Climate Summit closed the week with a reminder that the SG Summit will be open to all constituencies who are ready to take action for a better future making it clear that local and regional governments are now expected to take decisive action and clearly express their willingness to collaborate with other parties on climate action.
ICLEI Africa worked with partners to organise and participate in a number of sessions throughout Africa Climate Week. The strong representation of subnational governments at the event, was enhanced by partners, such as the Global Covenant of Mayors for Climate and Energy (GCoM), and its regional arm, the Covenant of Mayors: Sub-Saharan Africa (CoM SSA), the United Cities and Local Governments of Africa (UCLGA), C40, as well as Mayors from across the continent.