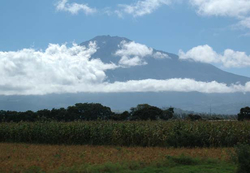 The City of Arusha in northern Tanzania not only has a large and growing urban population, but increasingly has an international role, as the host city of the East African Community (EAC) and the International Tribunal for Rwanda.
This rapidly developing ICLEI member has now developed a strategy to curb its traffic congestion problems, with a particular focus on the city centre. In the theme of the EcoMobility World Festival taking place in September, such work is especially topical.
Arusha, overlooked by Mt. Meru on the eastern edge of the Great Rift Valley, is situated in and amongst some of the most scenic landmarks in East Africa and is surrounded by some of the region's most famous national parks. It is therefore perhaps not surprising that it is a sought-after place to live and work. With two airports, Arusha International Conference Center, a large manufacturing sector and a growing tourist industry, traffic congestion has inevitably become a challenge.
In response, the city has developed a series of plans to tackle the congestion problem. Chief among these are moves to greatly increase public transport. This will be coupled with the designation of one-way roads and the exclusion of large trucks in the city centre. At the same time, the council will work on constructing bypass roads around the city centre.