Circular African Cities Forum hosted in Cape Town
Local government officials from eight African cities came together with the ICLEI Africa team to share what circular development means for their jurisdictions.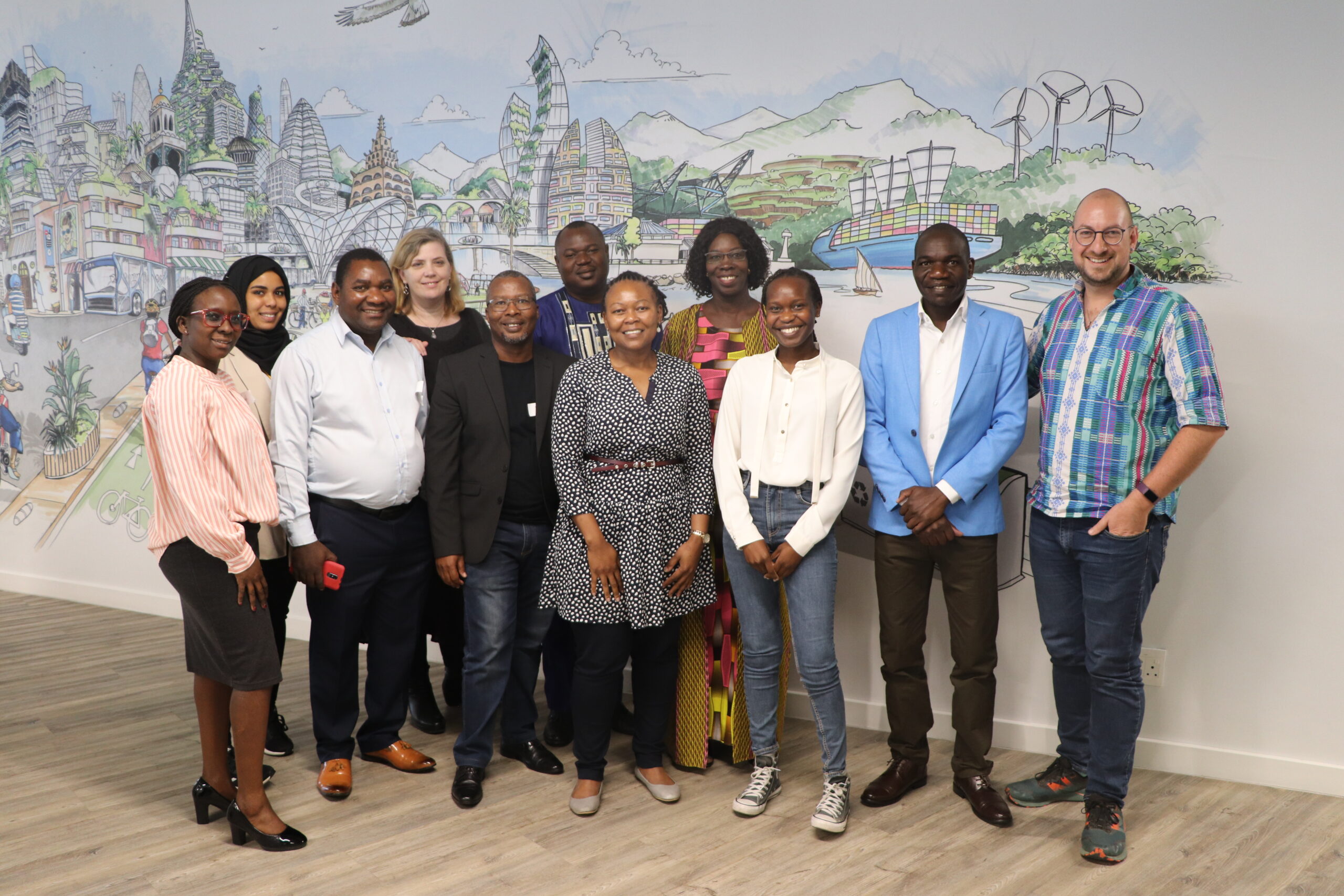 ICLEI Africa, in collaboration with the Ellen MacArthur Foundation (EMF), convened a 3 day city-to-city exchange in Cape Town from 26-28 October 2022 as part of the African Circular Cities Initiative (ACCI). This in-person workshop is part of a series of city engagements which seek to understand the entry points for effective transitions to circular economy in different African cities, and to help articulate different visions for circular cities.
Enthusiastic city officials from eight African cities – Accra, Cape Town, Dakar, eThekwini, Kisumu, Lilongwe, Nairobi, and Umhlathuze – came together to engage, learn and exchange circular economy experiences from their perspectives.  What is notable is that each of the officials came from different departments, including economic development, innovation, urban planning, waste management, renewable energy, and environment, demonstrating that circular economy effectively crosses multiple sectors.
City officials engaged in discussions around how circular economy principles – Regenerate, Rethink, Reduce, Reuse, Recover – are actually implemented in their jurisdictions. Key discussions revolved around policy process and implementation in local government institutions, nature-based solutions for cities, sustainable public procurement, and leveraging data for evidence-based decision-making, among others. Each city shared their specific visions for what circular economy transition would mean for their citizens; they described the particular opportunities and barriers to such a transition and shared particular needs that could support their efforts. These visions and ideas will be shared at the collated into a visions document for the World Circular Economy Forum, to be hosted from 5-6 December in Kigali.
While there were many perspectives shared, three key ideas that emerged from the workshop are:
Circular economy visions for each city are necessarily different – it is therefore vital to contextualise circular economy to their environments/institutions; circular economy policies must engage with the specific political and economic landscape in these cities, and shift from planning and visioning to implementation as a next step.
Circular economy needs an all-of-society approach, and therefore trust building is vital – certain organisations can play the role of a knowledge and relationship broker on behalf of the city – this is important, as businesses and communities may not wish to share their data or needs directly to governments, but may prefer an intermediary.
While we need more data on resources, and appropriate social and technical infrastructures, we also need to revisit our assumptions about decision-making processes at the local government level – are local government political leaders actually making use of the evidence that is being put before them, or are other things driving their decision making?  – There is a need to invest in, and build, stronger cultures of evidence-based decision-making.
Throughout the workshop, various circular economy resources were shared, including:
The Circular Cities Actions Framework offers local government officials five R strategies that can be used to expand on circular economy implementation beyond downstream processes.
Circular Economy in Africa: Opportunities and Examples paper series, by Ellen MacArthur Foundation, ICLEI Africa, University of Lagos and Chatham House.
The ACE Africa Circularity is… Catalogue for Local Governments document, which offers a collection of circular economy actions that aim to inspire City officials to take action and lead circular transitions in their various roles and localities.
10 Recommendations for local government to support enabling environments for circular business infographic and video, produced in the ACE Africa Project, were officially launched with the City officials present, to receive direct feedback.
A final day of the meeting included a site visit to various circular economy-related initiatives within Cape Town:
Atlantis Special Economic Zone (SEZ) – As a Greentech hub, this SEZ aims to educate and upskill the Atlantis local community around the green economy and technology, as well as implement industrial symbiosis (using outputs of one industry as inputs of another) in order to create a symbiotic relationship between compatible businesses. This initiative is linked to the circular principles of 'rethink' and 'reuse' as waste is designed out from the onset, before products are discarded they are reused in another process.
Lunalab – A demonstration was provided on how gravity-fed solar-powered geysers are installed and maintained to provide warm water to informal settlement residents and opportunities for job creation. This initiative is linked to the circular principles of 'reuse' and 'recover' as discarded 2l bottles are reused to hold water that is heated by the sun, and elements of the equipment used to make the geyser utilises recovered and recycled plastic.
Makers Landing – officials were taken on a tour of Makers Landing which includes eateries, hosts food markets, and operates an incubation programme that offers an opportunity to upskill small agrifood businesses. This initiative is linked to the circular principles of 'rethink' and 'reduce' as it offers a platform for start-ups to experiment and explore innovative business models within the food industry.
Philippi Economic Development Initiative (PEDI) – officials were given a tour of the Philippi Agrihub with a specific focus on the organic waste to compost component.  This initiative is linked to the circular principles of 'regenerate' and 'recover' because it processes organic waste (recovered from city waste collection and local communites) through windrow and machine composting, before earthworms improve the nutrient composition, and reduce bacteria and fungi, of the final product.
About the African Circular Cities Initiative (ACCI): The African Circular Cities Initiative aims to develop an African approach to Circular Economy implementation in cities. It aims to support local government officials to articulate a vision for circular economy in their cities and share the work that is currently ongoing.