The City of Bogor played host to the second of two international networking seminars of the Urban-LEDS project, the first being held in Nelson Mandela Bay, South Africa in 2013.
These seminars are a highlight of the project as they bring together ICLEI staff from the five implementing regional offices (Europe, South Africa, Brazil, Indonesia, and India) together with the officials of the participating municipalities. A number of interactive sessions were held to share successes and challenges of steering cities towards low emission futures. The South African delegation was proudly represented by Sikuhumbuzo Hlongwane, the Director of Economic Development and Planning at KwaDukuza Municipality, Mandla Mnguni, Acting Municipal Manager of Steve Tshwete Local Municipality and Tumelo Gopane, Deputy Municipal Manager for Infrastructure and Technical Services, together with the ICLEI staff Stephen Davis and Grace Stead.
Yunus Arikan, ICLEI's Head of Global Policy & Advocacy together with representatives from Urban-LEDS Cities.
Part of the visit involved gaining an understanding of the low carbon development activities that the City of Bogor is working on, with site visits to a community waste recycling initiative and a pioneering wastewater to energy project providing great visual evidence of what has been achieved. The site visits and presentations by other cities sparked enthusiasm for undertaking similar projects in their home cities. However, the other cities were equally inspired by the progress made by the South African Cities, particularly with regards to community and stakeholder engagement efforts.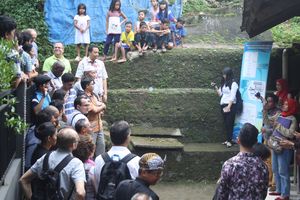 First site visit: learning about Bogor's unique
sanitations and wastewater to energy project.
There were also a number of informative presentations on tools available to the cities including resources on accessing finance for climate projects, including initiatives such as the Solutions Gateway, carbonn Climate Registry and Transformative Actions Programme (TAP), as the world gears up for the Paris Climate Talks towards the end of this year. It is important for cities to be aware of all the opportunities that are available so that we can ensure that the Urban-LEDS project has the desired impact both within and beyond the term of the programme, which comes to a close later this year.
For more details on what transpired at the seminar, and to find out more about the Urban-LEDS project, see the following link.