In a pioneering effort the small urban settlement of Doornkop just north of Middelburg hosted the first Doornkop Renewable Energy Rural Expo.
This event was organised by the local community, with support from the Steve Tshwete Local Municipality and ICLEI Africa.
ICLEI – Local Governments for Sustainability – Africa has been working with the Steve Tshwete Local Municipality to develop a low emissions development strategy. The work with Steve Tshwete has run over the past two and a half years and forms part of the Urban LEDS Programme being rolled out in India, Indonesia, Brazil and South Africa and is assisting local governments with their journey towards a more energy secure, economically efficient and environmentally friendly future.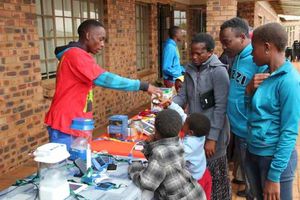 The Doornkop Youth Co-operative intends to start a "solar spaza shop"* where they can sell renewable energy products to the local community. In preparation for this they hosted the expo with the purpose of gaining feedback from the community around what products they prefer. A survey was carried out by the youth to understand the current energy needs of the community and to determine what they could afford to spend on renewable energy products.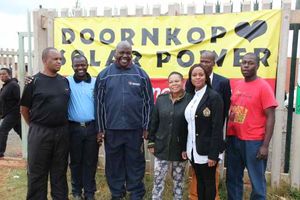 The opportunity was used to raise awareness and educate people about renewable energy options. Talks were held at the primary and secondary school to engage with the learners and it was encouraging to see how much they already knew about solar energy. A workshop was held on how to use the sun to heat your water by using recycled materials, such as plastic bottles and used Tetrapack cartons. The workshop participants made a unit that could be used at the community centre, which currently has no hot water.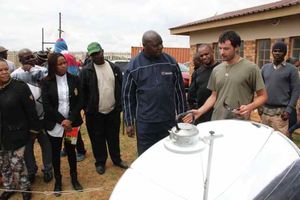 Various other products were also on display, such as a solar cooker, solar oven, solar water heater, efficient cook stove, Wonderbag and various solar lights and PV panels. Representatives from 1 Million Jobs for Climate Change Campaign did some community education on the causes and impacts of climate change and why we need to switch from coal to renewable energy.
The event also provided the community an opportunity to showcase what they have already achieved, such as their dry sanitation project and fertilizer factory that runs off solar power, and their Digital Doorway, which provides internet training facility powered by the sun. Potential suppliers experienced the community's enthusiasm first hand and relationships were established to encourage future partnerships.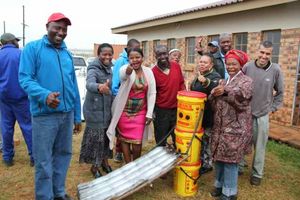 Another important workshop focussed on finance options for renewable energy. The community has decided to start the first "solar stockvel"** which will be a community savings scheme used for renewable energy products.
Mayor Masina indicated during his address to the community that he was very proud of what they were doing and that he would like to see this grow in the future. He had just visited Seoul, South Korea for the ICLEI World Congress and was very enthusiastic to promote opportunities for renewable energy in the municipality.
* A spaza shop is an informal convenience shop business in South Africa, usually run from home. They also serve the purpose of supplementing household incomes of the owners, selling everyday small household items. These shops grew as a result of sprawling townships that made travel to formal shopping places more difficult or expensive.
** Stokvels are invitation only clubs of twelve or more people serving as rotating credit unions or saving scheme in South Africa where members contribute fixed sums of money to a central fund on a weekly, fortnightly or monthly basis. The name "stokvel" originated from the term "stock fairs", as the rotating cattle auctions of English settlers in the Eastern Cape during the early 19th century were known.