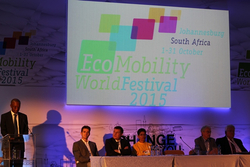 On 1 October the 2015 EcoMobility Festival kicked off with a press conference at the IDC Conference Building in Sandton Johannesburg, South Africa, and saw Mayor Mpho Parks Tau respond to questions from the media.
Mayor of Johannesburg Mpho Parks Tau opened the 2015 EcoMobility Festival with a panel presentation followed by a question and answer session to a gathered assortment of reporters.
Mayor Tau also took various forms of transport to get to the event in show of solidarity with the residents of Sandton and encouraged everyone to 'take up the challenge' for the next 30 days.
As a welcome surprise veteran actor Danny Glover also made an appearance and explained his interest in not only the festival, but in the importance of changing our ways to mitigate climate change.
The event took place at the IDC Conference Centre in Sandton, an area that now has restricted access for private vehicles. Johannesburg is the first city in Africa to host the event and takes place a year after the last, which was held in Suwon, the Republic of Korea.
Read the press release here
Keep up to date by following on twitter or by visiting www.ecomobilityfestival.org/
@ecomobility_
@icleiafrica
@CityofJoburgZA