Effective communication during a crisis: How new constraints give voice to the vulnerable and inform urban resilience
What does effective communication at city-level look like in practice? When crises hit cities, local governments, decision-makers and researchers are compelled to adapt to new constraints and 'think on their feet'. As tools for engagement evolve, it is vital that resilience against future shocks are embedded within these structures.
In an insightful webinar, Effective communication: Lessons for responding to climate change and health pandemics, ICLEI Africa and the Covenant of Mayors in Sub-Saharan Africa hosted a panel of city leaders and environmental communications experts to review existing methods for information dissemination and unpack complex and emergent needs that require collaborative communications strategies.
Ms Rosalind Goodrich, Head of Research Communications at the International Institute for Environmental Development (IIED), explained how the initial challenges brought upon by the pandemic led to renewed expressions of their values. Creating collaborative content – from government to community level – is at the heart of their communications model.
First, the IIED developed a "digital booster strategy [to] consciously produce content which is digital first." Their communications "evolved to become increasingly strategic," focusing on the way in which the pandemic has affected their partners. This way, their partners in cities and rural areas actively created multimedia content to reflect the on-the-ground change they need to see. There are multiple considerations, Ms Goodrich elaborated, from target audience to poor internet connectivity, all of which informs the messaging and the medium. "[The] content needs to be fully accessible, digitally." Their online engagements have led to reaching a wider audience – geographically too, with the most of their participants tuning in from outside the UK.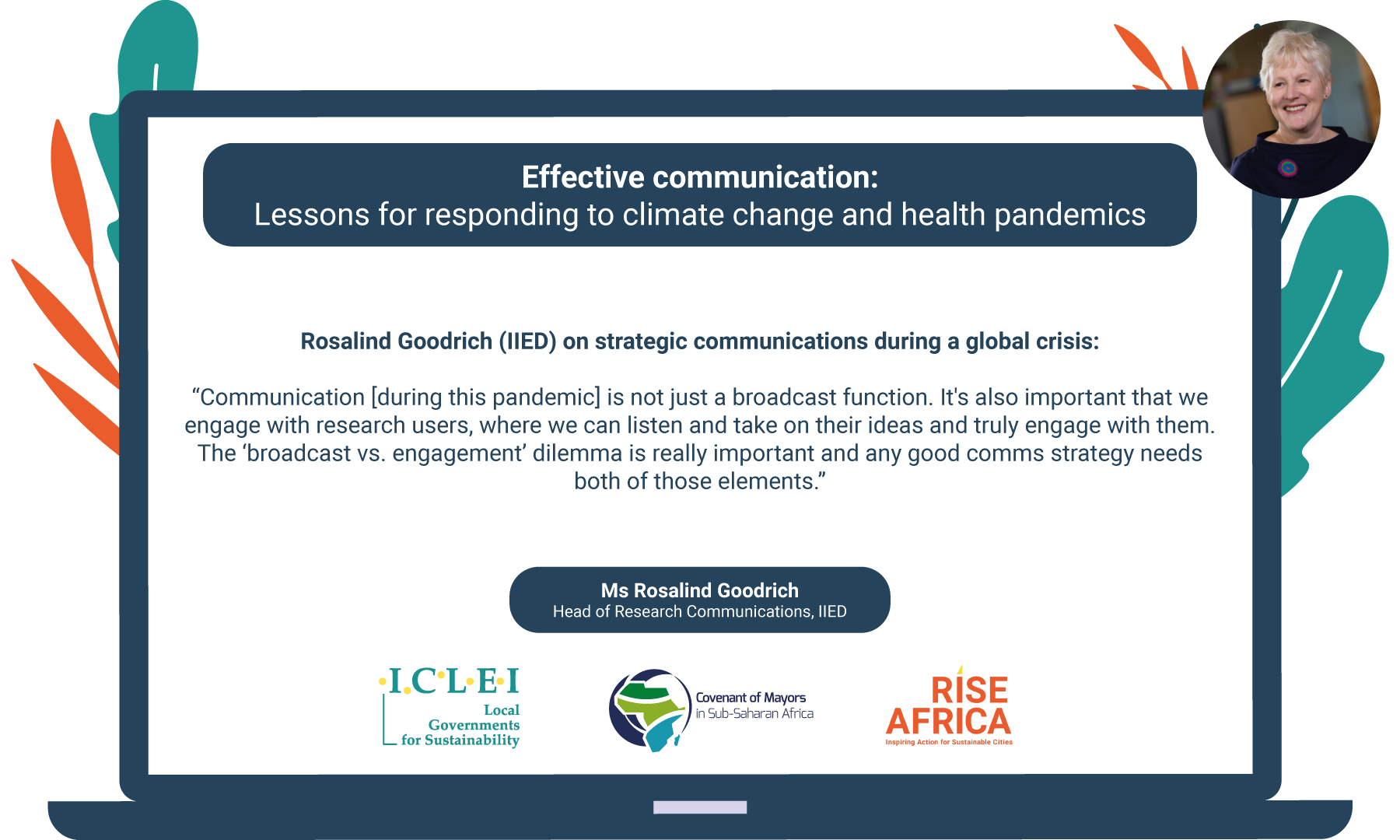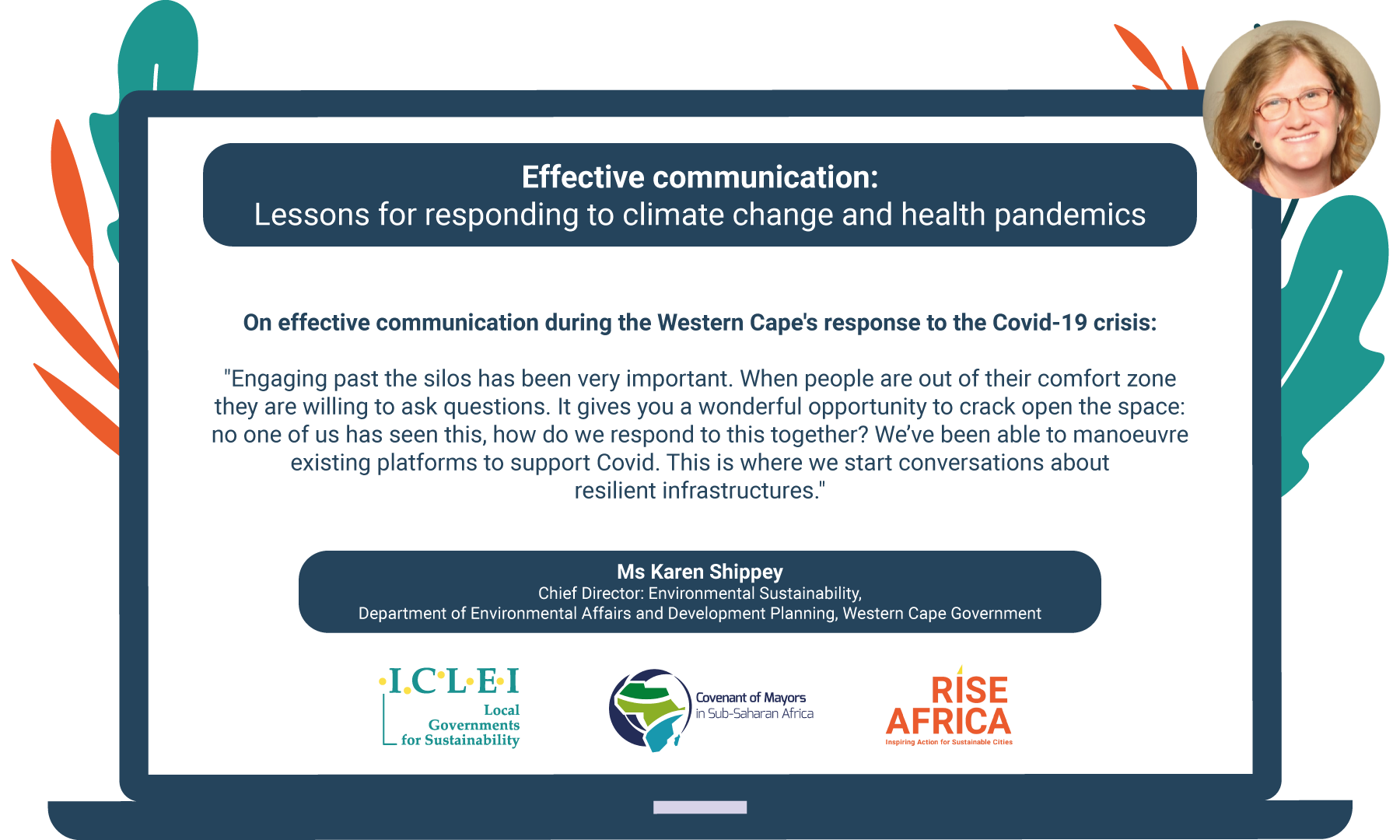 Reconfiguring existing models has been key in the Western Cape Government's response to the Covid-19 crisis, says Karen Shippey, Chief Director: Environmental Sustainability. She argued for a multidisciplinary, cross-cutting approach where all sectors are brought together to reflect on the complex nature of building resilience in a society riddled with inequalities. Ms Shippey believes that any disaster management response starts with the most vulnerable; effective communication during a crisis of this scale requires decision-makers to be bold and direct: "Where are the vulnerable people? How do we help them, [and] what kind of facilities do we need to set up to do it?"
The Western Cape drought crisis of 2015 has shown that resilience is built when the response cuts across all sectors: "Engaging past the silos has been very important. When people are out of their comfort zone they are willing to ask questions […] How do we respond to this together?" A collective response informed by previous disruptions can remain invigorated to support crises such as COVID-19. By keeping municipal and disaster managers on board and introducing innovative solutions from past crises, subnational governments, along with researchers are able to map vulnerabilities and build resilient infrastructure to weather future disasters.
It is such a multi-disciplinary approach that recognises climate change as a threat multiplier that can stimulate innovation across sectors.
Mr Washington Zhakata, Director, Climate Change Management Department at the Ministry of Environment, Climate, Tourism and Hospitality Industry in Zimbabwe, reported that government consultation with NGOs has been very effective across the country, enabling offices to be present in various communities, provinces and districts. He argued for a top-down approach that reflects the impact of climate change in our daily lives: "Information is power, security and knowledge."  Training and awareness has been a major component within their department to ensure that people integrate climate change into their decision-making.
Representing Nakuru Country, a CoM SSA member, Eng. Festus K. Ng'eno, CECM – Water, Environment, Energy & Natural Resources, County Government of Nakuru and Chairman for the Council of Governors Water, Forestry & Mining CECs Caucus, emphasised the need for engagement mechanisms for collaboration between national and local (county) government: "You need to understand the overall vision [of a program] and be able to transmit it to the local government in order to have the program effectively disseminated."
Karen Shippey argued for relatable messaging over abstract ideas, explaining that 'resilience' and 'vulnerability' are more tangible concepts than 'sustainability': "We need to articulate the very real ways in which climate change interacts with their daily lives. The discussion is a lot more visceral. It's very close. People are on the breadline […] Resilience becomes a matter of life or death."
Rosalind Goodrich also echoed the importance of a communications approach that "spreads less fear about climate change", adding that the ability to envision real change is a hopeful approach to communicating climate change.