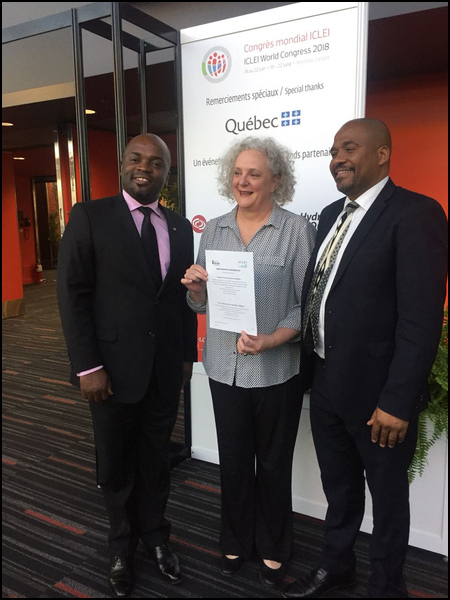 ICLEI – Local Government for Sustainability's Africa Secretariat and the South African Local Government Association (SALGA) formalised their partnership by signing a Memorandum of Understanding (MoU) on 21 June 2018 at the ICLEI World Congress in Montreal, Canada.
The MoU represents an ambition to build on a long-standing collaborative partnership between SALGA and ICLEI to upscale and accelerate sustainable urban development through the localisation of the Sustainable Development Goals (SDGs).
Left: Mayor of Tshwane, Solly Msimanga, congratulating Kobie Brand (Director of ICLEI Africa) and Xolile George (CEO of SALGA) on their newly signed MoU 
"ICLEI Africa is extremely pleased and proud to confirm the signing of an MoU with the SALGA to form a strategic partnership for jointly promoting sustainable development within local governments in Africa. This is a significant milestone in our already well established relationship and will serve as an excellent vehicle to extend the impact of our work across the continent!" said Ms. Kobie Brand, Director of ICLEI Africa.
Following the signing, the Chief Executive Officer of SALGA, Mr. Xolile George expressed his pleasure at the opportunity to sign the MoU by stating that:
"The relationship between SALGA and ICLEI strengthens SALGA's ability to gain access to, and facilitate the inclusion of municipalities in global platforms where municipal sustainability activities are profiled. In this regard, SALGA, and its member municipalities will be better able to influence the agenda and global discourse on issues pertaining to sustainability and climate".
Formalising this already existing longstanding relationship enables SALGA to be a member of ICLEI, thereby expanding the suite of benefits available as a strategic partner to ICLEI. In addition, SALGA will be better able to influence the work programme and strategic agenda of both ICLEI's Africa secretariat and that of the global organisation and collective of municipalities.
Presided over by the newly elected President of ICLEI and Lord Mayor of Bonn, Mr. Ashok Sridharan, as well as the ICLEI Secretary General, Mr. Gino Van Begin, and witnessed by an audience of high profile political leaders that included the Member of the Executive Council (MEC) of the Department of Cooperative Governance and Traditional Affairs (COGTA) in Kwa-Zulu Natal, MEC Nomusa Dube-Ncube and SALGA's NEC members Cllrs Gomba and Ngangelizwe, the signing ceremony marked an important and historic moment for both SALGA and ICLEI.