Disaster risk reduction is essential in African cities, not only to deal with real-time disasters, but also to proactively enact policies, plans and actions that reduce the impact of future disasters.
In the second half of 2017, ICLEI Africa, in partnership with the United Nations Office for Disaster Risk Reduction (UNISDR), worked with 50 cities from across eight African countries to better understand their preparedness in relation to disaster risk reduction.
The project, which was funded by the European Commission for International Cooperation and Development (EC DEVCO), promotes the implementation of the Sendai Framework for DRR 2015-2030 at local level and the Making Cities Resilient Campaign.
"More effective prevention strategies would save not only tens of billions of dollars, but save tens of thousands of lives. Funds currently spent on intervention and relief could be devoted to enhancing equitable and sustainable development instead, which would further reduce the risk for war and disaster. Building a culture of prevention is not easy. While the costs of prevention have to be paid in the present, its benefits lie in a distant future. Moreover, the benefits are not tangible; they are the disasters that did NOT happen." ~ Kofi Annan, 1999.
ICLEI Africa supported each city to carry out a self-assessment, using UNISDR's Disaster Resilience Scorecard for Cities. The engagements provided an opportunity for the cities to rate their disaster preparedness in line with the ten essentials for Making Cities Resilient, including governance, finance, planning, institutional capacity, multi-stakeholder involvement and more.
Overall, the project highlighted an opportunity to increase disaster preparedness in the cities. The main barriers identified in contributing to this under-preparedness were:
Lack of a specific disaster risk reduction mandate within local governments, leading to little or no resource allocation for disaster risk reduction tasks.
Limited understanding of disaster, climate change and related issues by municipal officials.
Lack of disaster risk reduction data to feed into decision-making processes.
Severe resource and capacity shortages, which make tackling disaster risk reduction challenging.
Whilst most of the cities we engaged with are hampered by these challenges, they recognise the value of disaster risk reduction, with many municipal officials going above and beyond to enact disaster risk reduction actions, despite difficult circumstances. City officials welcomed the opportunity to learn, engage and participate in workshops around disaster risk reduction. Peer-to-peer learning exchanges were particularly useful for benchmarking and knowledge sharing. It is clear that further capacity development and much resource provision towards disaster risk reduction is needed to ensure our cities are fully prepared, and ICLEI Africa aims to walk this road with the cities we serve in Africa.
For more information on the project, please contact Belinda Mills at Belinda.mills@iclei.org.
A list of cities that took part in the assessment is provided below: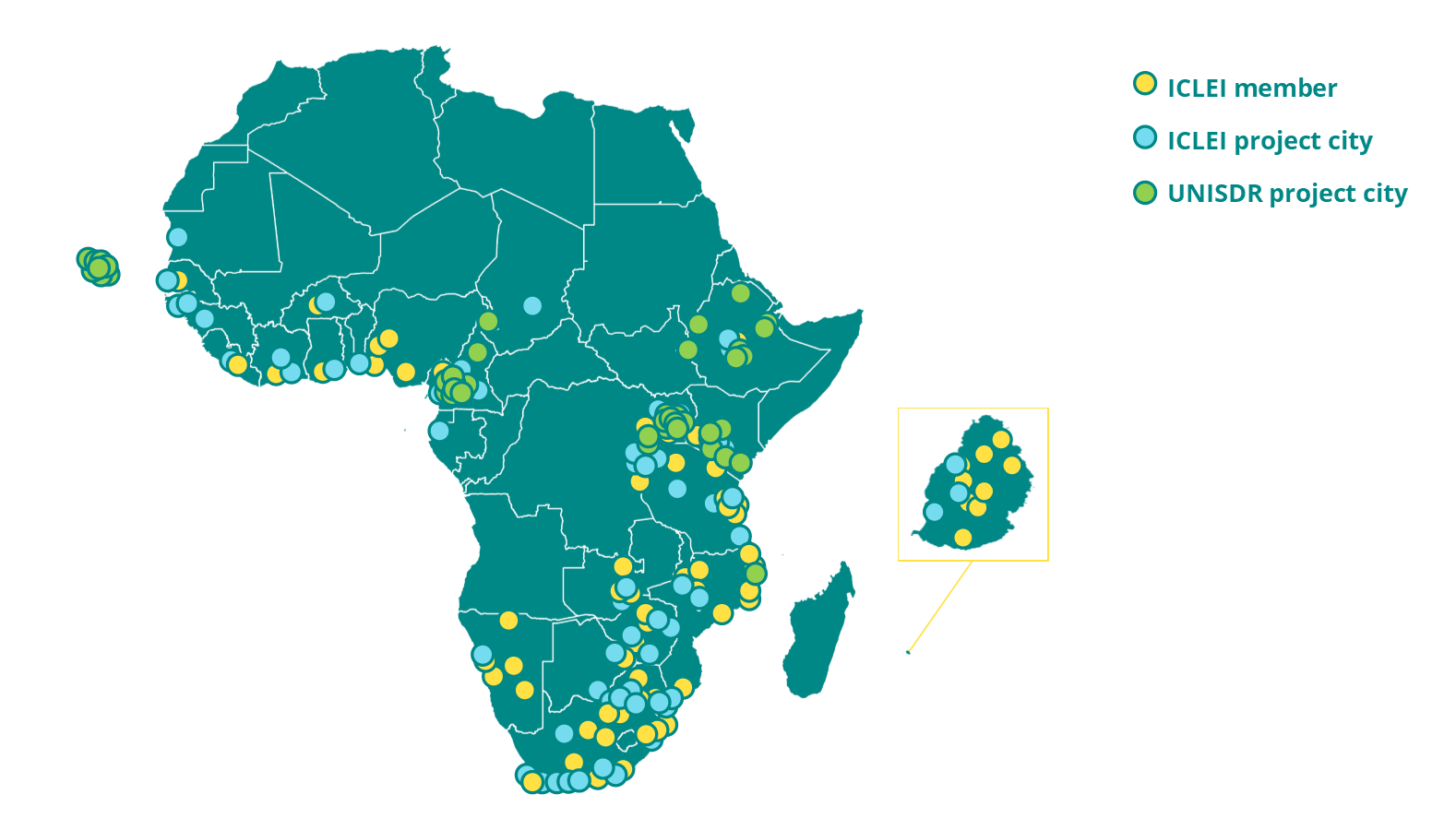 Cameroon
• Akonolinga
• Bafoussam
• Bafut
• Douala
• Dschang
• Ebolowa
• Fongo-Tongo
• Maroua
• Mbalmayo
• Ngaounde
• Yaounde
Namibia
• Windhoek
Uganda
• Entebbe
• Kampala
• Makindye Ssabagabo
• Mukondo
• Kabale
• Kasese
• Jinja
• Kira
• Nansana
• Soroti
• Mbalea
Cape Verde
• Praia
• Ribeira Grande de Santiago
• Santa Catarina de Santiago
• Sao Salvador do Mundo
• Santa Cruz
• Sao Miguel
• Sao Domingo
• Sao Lourenco dos Orgaos
• Tarrafal de Santiago
Ethiopia
• Adama
• Asosa
• Bishoftu
• Dire Dawa
• Gambella
• Harar
• Hawassa
• Mekele
Kenya
• Baringo
• Kajiado
• Kilifi
• Kisumu
• Laikipia
• Makueni
• Nyandarua
• Tana River
Other
• Nacala – Mozambique
• Lilongwe – Malawi
• Walvis Bay Namibia