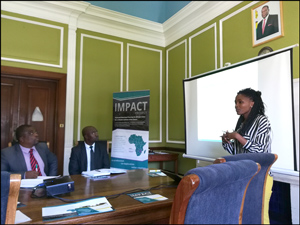 Collaboration is increasingly being acknowledged as an important factor in achieving climate resilient development in African cities. Diverse expertise and skill sets are needed in order to tackle the increasing complexity of urban challenges when overlaid with climate change impacts. The aim of the IMPACT (Improved Municipal Planning in African CiTies) project, funded by the International Development Research Centre (IDRC), is to better understand how mechanisms for collaboration can be used to enhance decision-making for climate resilient development in African cities.
Two of the cities the project is focussing on include the City of Blantyre, Malawi, and the City of Harare, Zimbabwe. The IMPACT project team travelled to Blantyre and Harare in May 2018 for the first learning engagement. This gave them an opportunity to engage with local government officials and other stakeholders in a series of interviews, as well as a half-day workshop. The purpose of these was to launch the project, increase awareness of the value of collaboration for climate resilient development, and to co-produce knowledge about stakeholders involved in decision-making, as well as existing collaboration taking place in decision-making processes and implementation of urban development projects.
During the city visits, a stakeholder mapping exercise was conducted, where stakeholders engaged and debated who the key decision makers are that influence climate resilient development in each city. Stakeholders also began populating a database of collaboration mechanisms, which will be built upon throughout the duration of the project and interrogated for learnings applicable to the project cities and beyond. The IMPACT team are analysing what makes these collaboration mechanisms successful or not, and how they can be enhanced and up-scaled for improved municipal planning processes.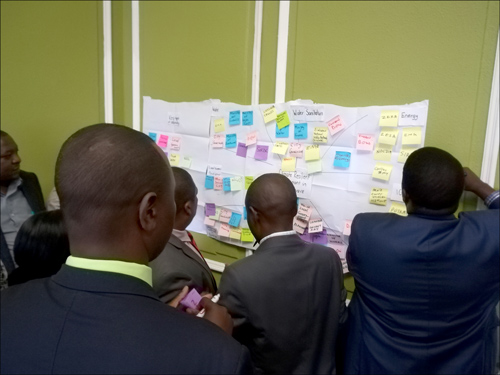 The IMPACT project was well received in both Blantyre and Harare, and ICLEI Africa was encouraged by the general consensus that improved collaboration within the cities is needed. Dr Emmanuel Kanjunjunju, Director of Health at the Blantyre City Council, said: 'We look forward to more iterations so we can add to the body of knowledge generated in this project'. In Harare, Mrs Priscilla Charumbira, Chief Town Planner said: 'It's a structural requirement for the city to involve communities and other stakeholders as we plan.' The IMPACT team aims to build on this statement to work with the city in deepening collaboration.