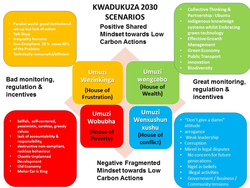 In an innovative future scenario planning process, KwaDukuza Municipality and key stakeholders came together to create a low-carbon development vision for the area's future growth and development.
The local stakeholders, joined by neighbouring municipalities and Provincial representatives, continued building on the success of the first scenario planning imbizo in November by delving deeper into one of 4 potential growth and development futures for the area. How will KwaDukuza look and feel for its inhabitants in the radically different world of 2030? Would there be public transport? Will the air be clean? Will planning promote green industry and create green jobs for local people?
The process is convened as part of a partnership programme between the Municipality and the NGO ICLEI – Local Governments for Sustainability – Africa. The Urban Low Emission Development (Urban-LEDS) project is working with KwaDukuza and six other municipalities in South Africa, to design and integrate measures to create jobs and improve the local environment through reduced carbon emissions. The project runs until August 2015.
Low-emission development involves making decisions now that can reduce local air pollution, energy use, and create jobs and investment opportunities into the long-term. The world is increasingly focused on the issue of carbon emissions arising from the burning of fossil fuels. As scenario planner and process facilitator Shahid Solomon commented: "Low-carbon is not a nice-to-have, it's not a green consciousness thing anymore. We're too deep in the transition; it's become a business issue. If we don't anticipate it, we might get priced out the game."
Over 35 people from the Municipality, District and Provincial government, business, NGO's and local community spent an intensive day-and-a-half brainstorming an effective vision statement for the Municipality's future sustainable growth trajectory. They then identified the tough choices that would need to be made in order to reach that vision. Will the Municipality have the strategic capacity it needs? Will the area chart an independent energy path? Will a long-term financial framework be developed that can re-engineer investment and infrastructure decisions to be fit for the 21st Century?
The Deputy Mayor of KwaDukuza, Ms Dolly Govender, along with a number of Councillors, has attended both scenario planning sessions. She reiterated her remarks that: "We will make sure that the outcomes of this workshop will be mainstreamed into council and development planning". Another participant, Trenley Tilbrook, CEO of iLembe Chamber of Commerce, commented: "I would like to commend KDM for being progressive and proactive in taking the initiative to develop a low carbon emission development outlook. This can however only be implemented effectively in partnership with business, as the chamber, representing business in the area, we are looking forward to partnering with KDM in this regard."
The Urban-LEDS project directly builds on the recently developed Climate Change Response Strategy and progress so far has included the completion of KwaDukuza's first ever Greenhouse Gas inventory and energy profile. The scenario planning results will feed directly into the Integrated Development Plan going forward and all stakeholders in KwaDukuza will be invited to comment and take part.