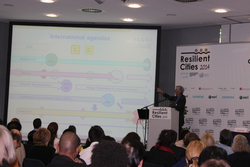 Making cities resilient to disaster and the impacts of climate change has undoubtedly become a responsibility of all local leaders.This became evident during deliberations by over 400 experts, and practitioners who convened for Resilient Cities 2014: The 5th Global Forum on Urban Resilience and Adaptation in Bonn Germany.
The Congress brought together 90 local government representatives as well as experts from international organizations, national governments, research institutions, business and media.
Local leaders are realizing the need for an integrated approach that works towards building resilience in their cities. As His Royal Highness, The Prince of Wales said in his opening message to Resilient Cities 2014, "The need for this integrated approach is now urgent and that is why meetings such as this are vitally important in order to articulate fully the vision and help establish ways to build the evidence base and galvanize the wheels of change. So I can only congratulate ICLEI for their leadership in this area over the past few years."
The Resilient Cities Forum saw a move forward in resilience financing with a big improvement in understanding barriers to financing adaptation measures and a great increase in partnerships to address these challenges. However there is still little improvement in implementation and impact on the ground so local governments are getting creative towards financing their resilience efforts using their own existing assets, local revenue streams and fiscal mechanisms to leverage other funds. From Mayor Diane Watts' (Surrey, Canada) solution of a "green fund" to Nancy Saich's (European Investment Bank) suggestion to take the climate label off and find funding in smaller sectoral packages that include adaptation. The congress also saw avid interest and innovation in creative infrastructure projects, especially in the ecosystem-based adaptation sector. Singapore's projects, Garden by the Bay project and the Bishan Ang Mo Kio Park, are great examples of turning domestic water deficits and concrete drowning-traps for floodwater into tourist-attracting self-sufficiency and much-needed green leisure areas in the space-constrained city-state.
Cities are looking for innovative means for financing resilience and designing infrastructure while adapting to the changing climate. This has become even more evident as most parts of the world see frequent weather events and other disasters. There is an urgency for all cities to do vulnerability assessments and, based on these assessments, to work towards risk reduction and resilience-building by engaging multiple stakeholders. Multiple stakeholder engagement is necessary not only between researchers and practitioners but also different levels of government to further drive and fund efforts in resilience building.
Resilience building was also the focus of the Mayors Adaptation Forum (MAF). This forum convened by the World Mayors Council on Climate Change saw the inclusion of resilience as a key component of the Urban Sustainable Development Goal (Urban SDG). The phrasing of the Urban SDG focuses on creating an inclusive productive resilient city.
David Cadman, ICLEI President says, "It is inspiring to see cities so involved and being so innovative. Cities are essentially about the people that live in them. We want to build inclusive, safe, sustainable cities".

As the 5th Global Forum of Urban Resilience and Adaptation concludes, we invite you to the 6th year of this Global Forum from 8-10 June 2015 in Bonn, Germany. Additionally to enhance resilience and adaptation in the Asia region with a focus on developing countries, we present you with the 1st Resilient Cities Asia Conference from 11-15 February 2015 in Bangkok, Thailand.
Find more information here: www.iclei.org/bonn2014
Read the live blog: resilientcitiesblog.iclei.org