Situated 11km out of the Middleburg town centre, Doornkop was one of the first successful land claimants under the Restitution of Land Act and is now embracing the solar revolution.   As part of the Urban-LEDS project being implemented in Steve Tshwete Local Municipality, ICLEI Africa partnered with Doornkop to support them in their dream to become solar powered.
A video has been released showcasing the community showcase initiative of the Urban-LEDS project in Doonkop community, Middelburg, Steve Tshwete Municipality. See below or click to watch on ICLEI Africa's youtube channel.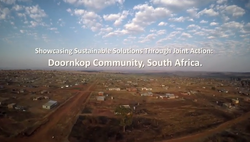 This video tells the story of the installation of sustainable energy solutions at the Doornkop community centre.
For more information, visit the Low carbon development pages of this website, or:
www.urban-leds.org
www.doornkop.wordpress.com
www.stevetshwetelm.gov.za
You can see a summary of the interventions made in Doornkop on this poster: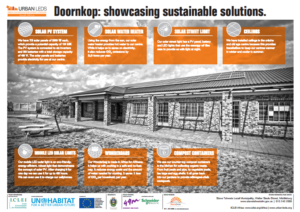 And a summary of the solar PV system and how it works on this poster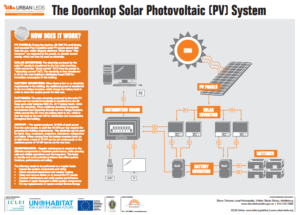 More information:
An 18kWp solar PV system has been installed at the Doornkop Community Centre, which is used for various purposes including a soup kitchen, Community Public Works Programme activities and adult education. The system boasts 68x 260w solar panels, 32 batteries and six inverters. It can be used during the daytime for appliances in the community centre, crèche and Old Age Day Care Centre, while also providing lights at night for a few hours.
The solar PV system paved enabled additional security lights to be installed around the community centre and surrounding buildings. In an area normally totally dark at night, a solar streetlight was installed at the entrance to the centre to also provide light to the surrounding area. Two 150-litre solar water heaters were installed, on the roof of the Community Centre and caretaker's home. For the first time the crèche and old age day care centre were supplied with plug points and internal lighting. To improve the quality of internal spaces for the crèche and old age day care centre, ceilings were installed in both buildings. This helps to keep the building warmer in the winter and cooler in the summer.
In this off-grid community, the Community Development Workers team are now able to charge their cell phones which they use for capturing their work, the community kitchens have benefited from being able to use fridges, learners can study in the evening and community members can have meetings in the evening and use the data projector for presentations.