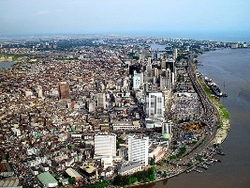 On Monday, 13 January 2014, Governor of Lagos State H.E. Babatunde Raji Fashola inaugurated the new Lagos State Water Regulatory Commission. The Commission is charged with raising awareness of the importance of conserving and caring for the state's water resources.
ICLEI member Lagos State is home to large estuaries and other water reserves, and has made sustainability a core principle of its development.
A Commission to regulate the Lagos State Water Corporation and drive advocacy for the benefits and risks of a population's water resources was founded, in the form of the Lagos State Water Regulatory Commission, on Monday 13 January 2014.
Focusing on the protection of raw and ground water sources as well as more general environmental protection, the commission was inaugurated at Lagos House, Ikeja, by the State Governor himself. He emphasised in his opening speech the importance of overall environmental protection in order to conserve groundwater, counter pollution and the discharge of untreated waste into water bodies.
He spoke on the importance of regulation and accountability of state and private service bodies, in order to be able to plan for a sustainable future, saying: "We must conserve, otherwise nothing we produce will be enough".