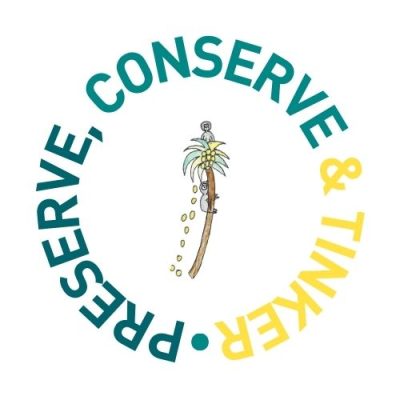 This exhibition focuses on urban nature in Bo City (Sierra Leone) and Cape Coast (Ghana) where the Urban Natural Assets (UNA) Resilience project has been active over since 2021.
In April 2023, photovoice workshops were conducted in these cities. These workshops involved community and stakeholder groups visually reflecting on their environment through photography, capturing current challenges, potential solutions, and the benefits and ecosystem services associated with their cities' urban natural assets. This people-centred approach allowed stakeholders to explore and reflect on the nature in their cities, and highlight what they perceive as important and in need of care.
Additionally, youth workshops were held, where young people gathered to collectively imagine the future they envision for their city and its natural assets. They translated their aspirations into colourful drawings, blueprints and maps, offering a glimpse into their visions of a better future. 
The goal of this exhibition is to emphasise the importance of preserving what we have, conserving that which takes care of our needs, and tinkering towards a more resilient future. Join us to Preserve, Conserve, and Tinker for better cities! Together, we shape a resilient future. Get involved now by sharing your reflections and making commitments to nurture the nature in your city!
Download the exhibition statement here to learn more.
Scroll to explore the exhibition below…
In the hustle and bustle of urban life, it's easy to overlook the natural assets that offer solace, inspiration, and a breath of fresh air. Urban nature isn't just aesthetically pleasing; it plays a vital role in our daily lives, providing clean air and shade from the heat, essential resources to support our livelihoods, soil for growing food, water for drinking, washing and fishing, mental rejuvenation, and habitat for wildlife. As we navigate the challenges of urbanisation, it i's essential that we recognise the worth of these natural sanctuaries and actively work to preserve them for future generations.
'Preserve' showcases the inherent value of nature thriving amidst buildings, settlements and human activity in our cities. From scenes of green and blue spaces, to illustrations capturing the imagined future by youths, these captivating images and dillustrations by youths serve as a poignant reminder of the invaluable connection between urban nature and the well-being of future generations.
Let these photographs be an inspiration to protect and nurture our urban natural assets. Through mindful stewardship and a collective commitment to sustainability, we can ensure that these precious spaces continue to thrive. Together, we have the power to foster a harmonious coexistence between our cities and the natural world, creating a future in where urban landscapes are interconnected with vibrant ecosystems that enrich our everyday lives.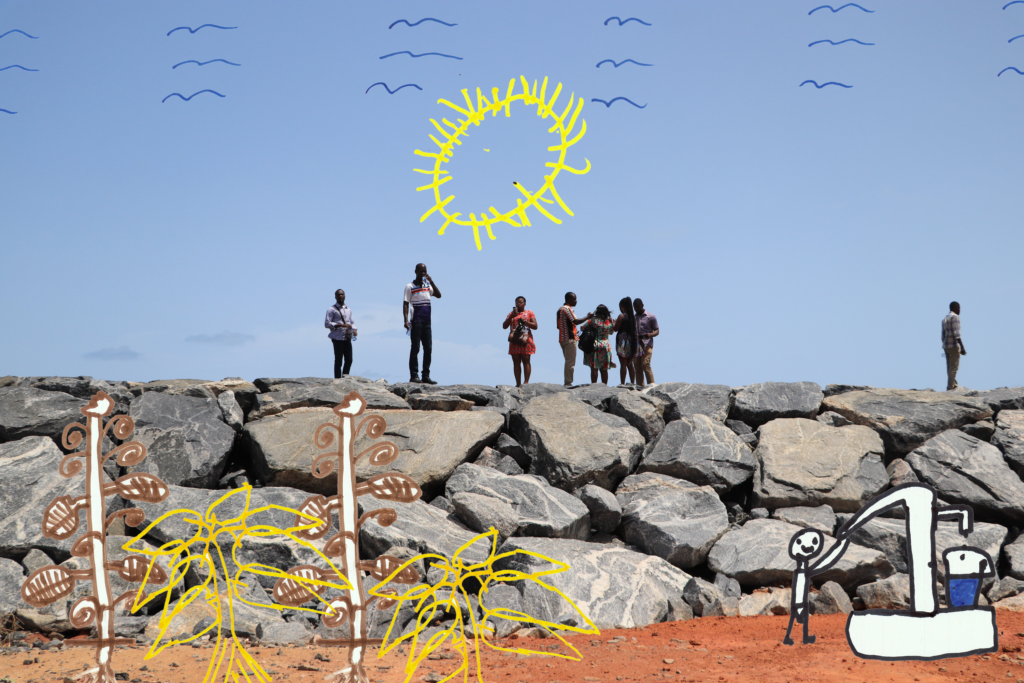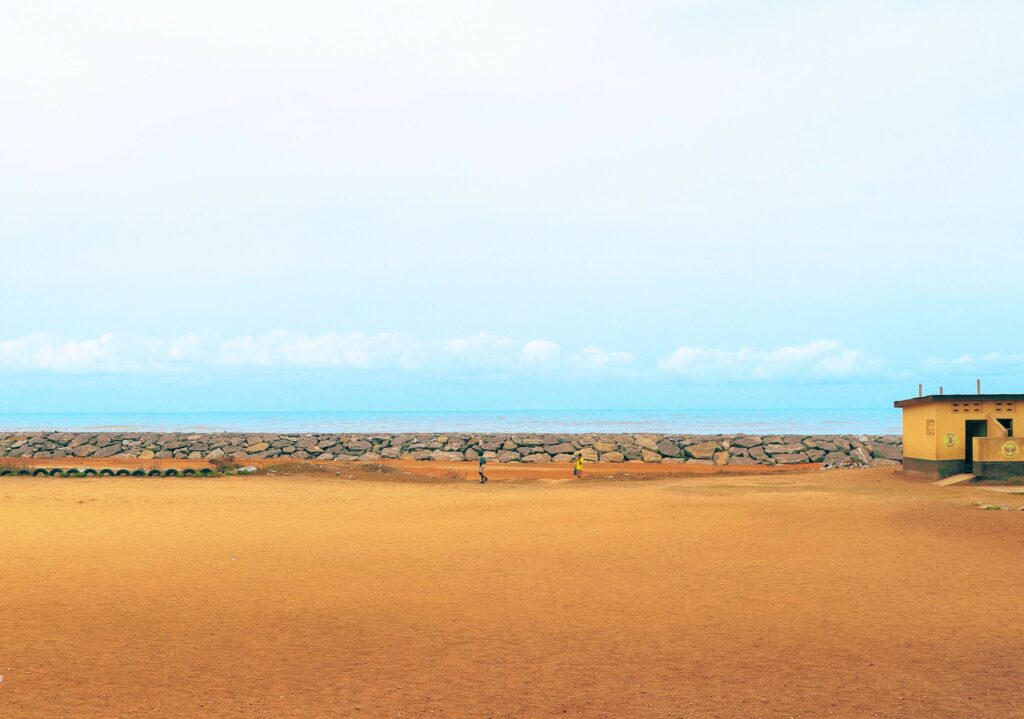 Waterwall by Philip Quaque School; first school in West Africa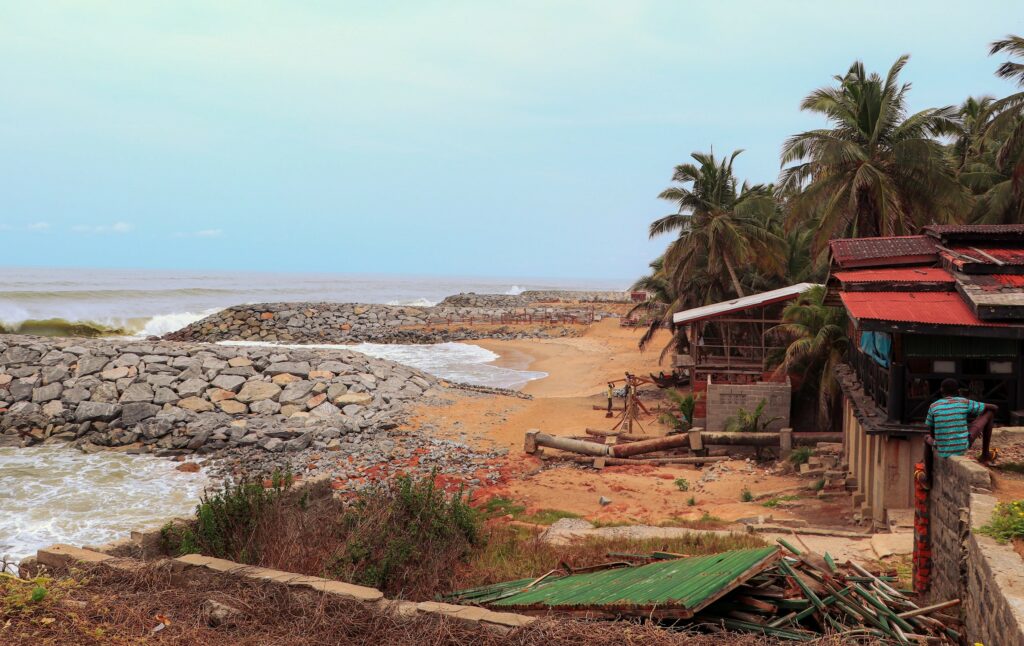 Coastline activity protected by waterwall
Wooden bridge
Photovoice submission by Mary Boima, on behalf of Group 2
Bo City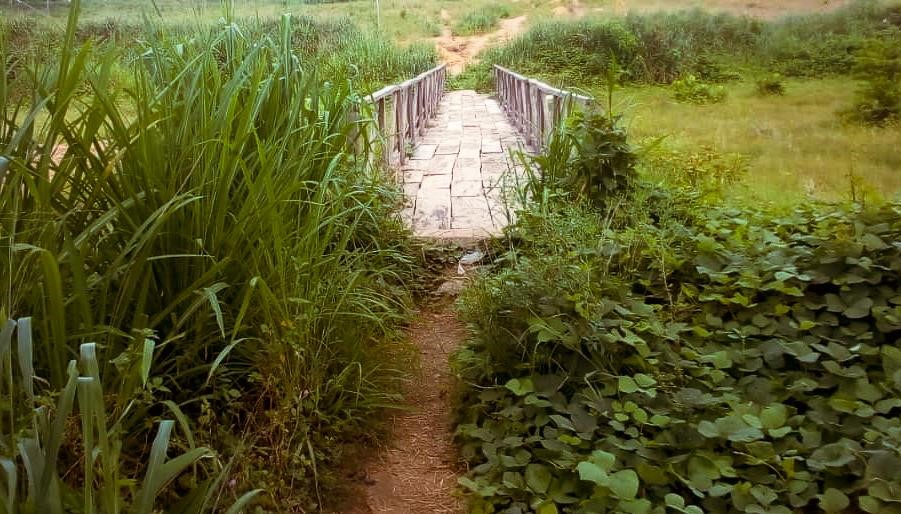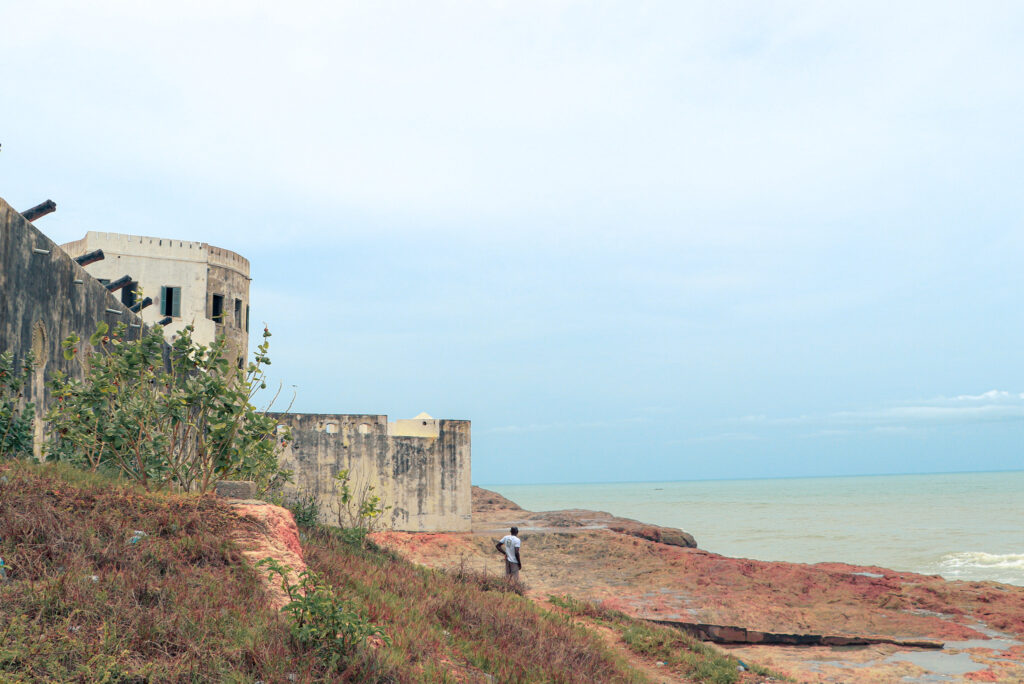 Man outside Cape Coast Castle reflecting on ocean
Three trees in Fosu Lagoon
Youth illustrations in response to the prompt: Visioning our future city in 50 years' time
'Conserve' brings to light the symbiotic relationship between humans and urban nature. These photographs draw our attention to the critical areas in our cities that need our dedicated protection. They are places where people connect, work, play, and find solace. However, in the wake of rapid urban development, these spaces are often overlooked or de-prioritised. It is clear that we, too, must extend our care and commitment to ensure that natural public space continues to exist. Urban nature is not just a backdrop to human existence; it's a lifeline, a source of sustenance for both our communities and the environment.
Urban nature's importance lies not only in its capacity to nurture us but also in its ability to empower communities and livelihoods, reduce pollution, and mitigate the impacts of climate change. It's a reminder that as we care for nature, nature cares for us in return.
These images inspire us to pause and reflect on the ways in which we need to look after our vital natural assets. In many ways, conservation is not an option but a responsibility. Through our collective efforts, we can ensure that these urban natural assets survive and thrive, providing essential benefits for generations to come. When we care for nature, we care for ourselves, fostering healthier, happier communities and a more sustainable future.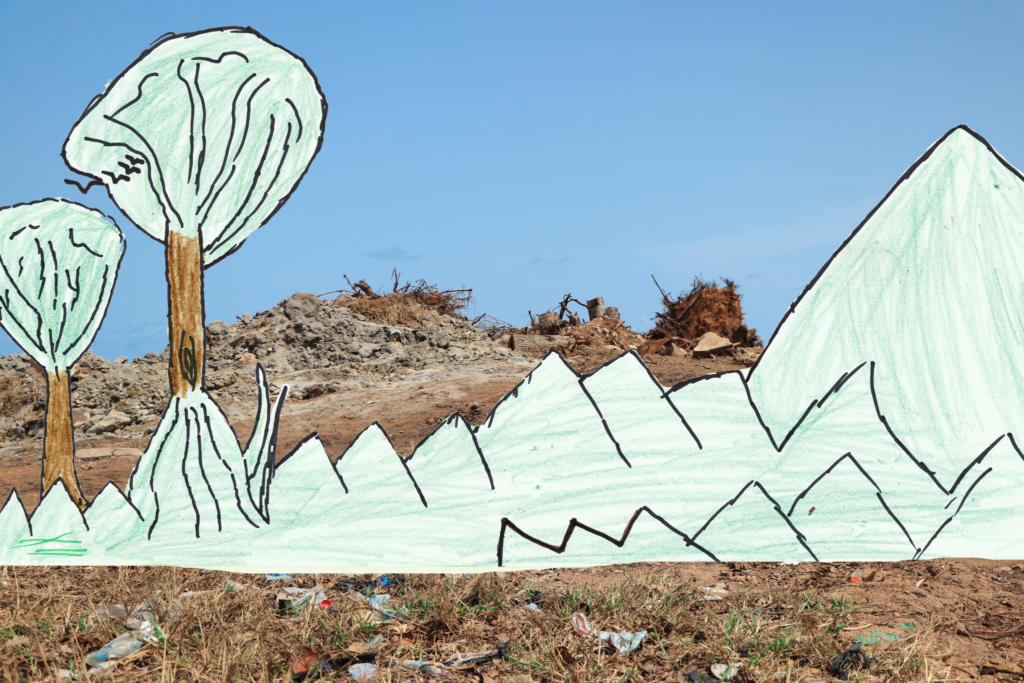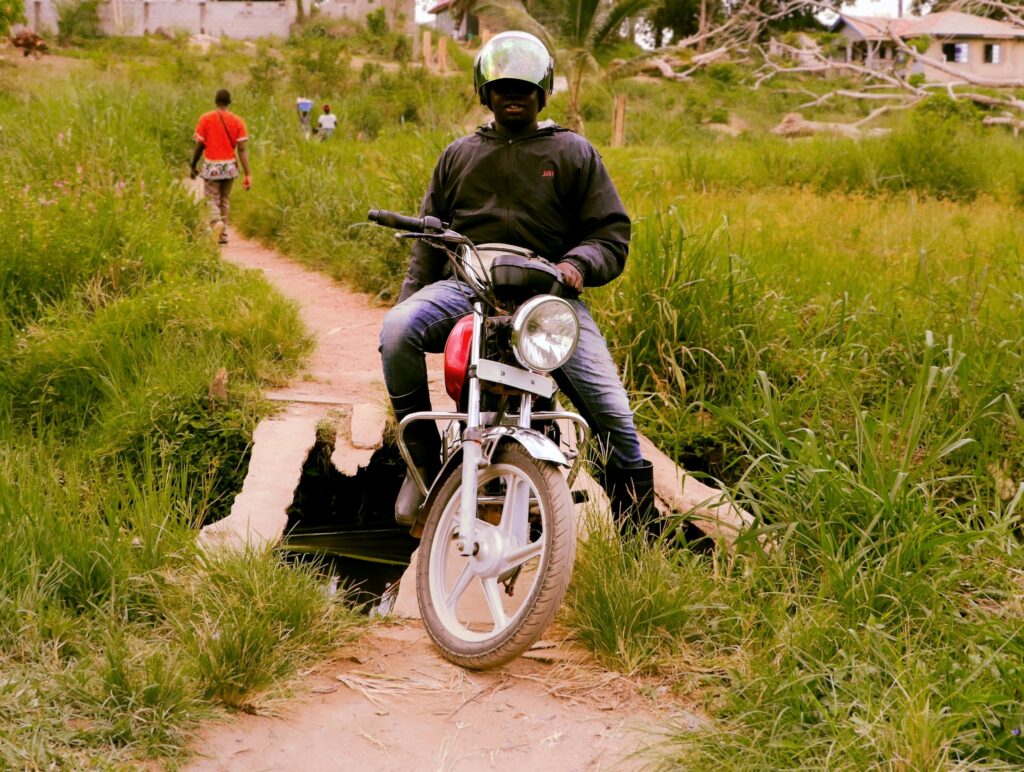 Transport into the Mendekwei Community over broken bridge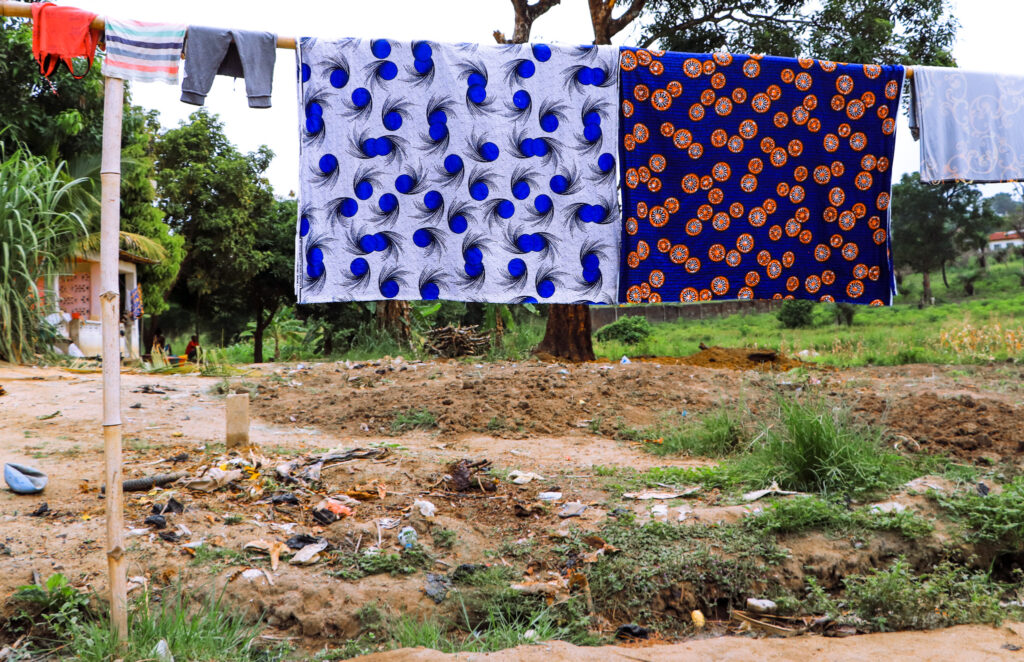 Where clean cloths are hung
Water by ancestral mangrove tree shrine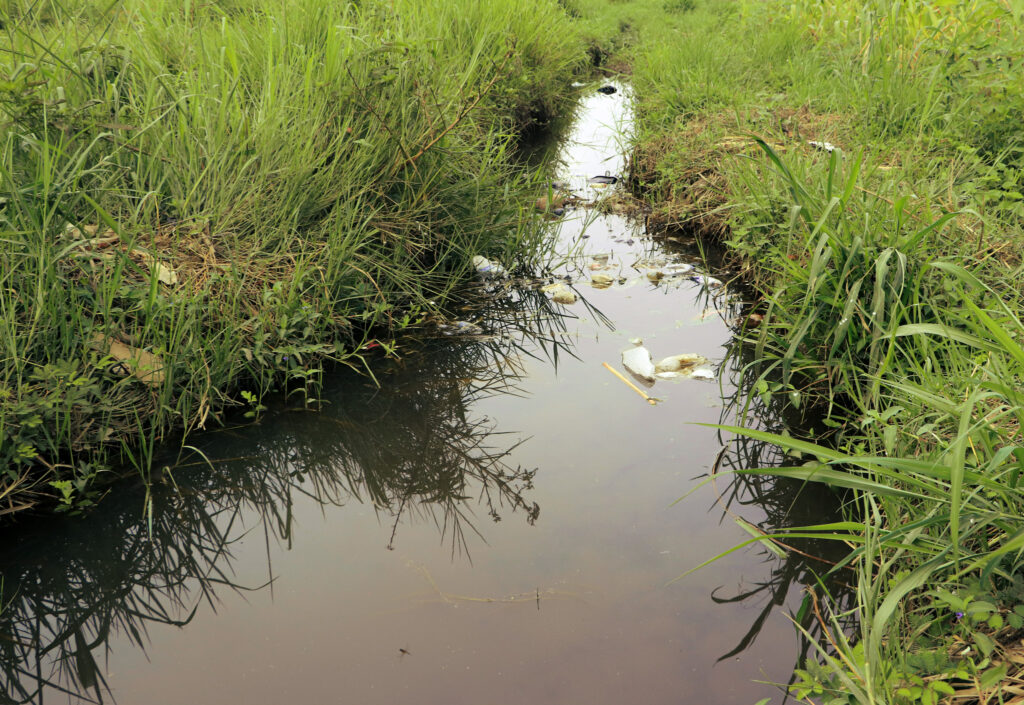 Stream close to farm in Mendekwei community
Right to food 
Photovoice submission by Nana Ama Ewul and Nana Kwesi Egyin
Cape Coast
Chosen by the participants as the winning image.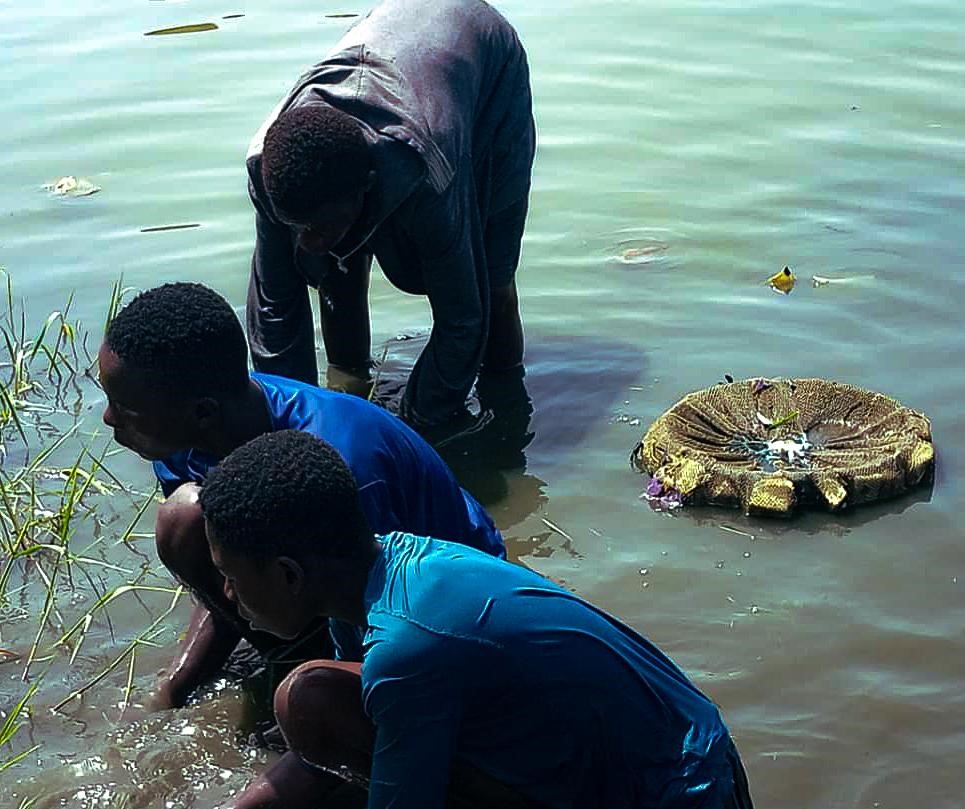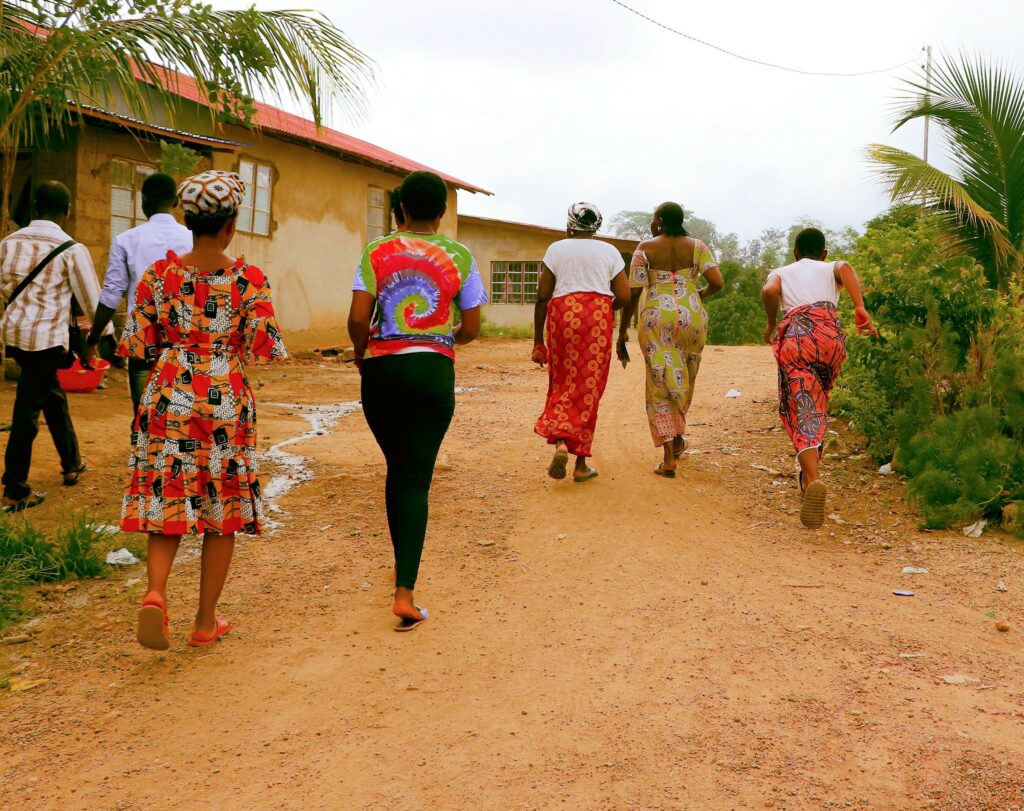 Bo City photovoice workshop in Mendekwei Community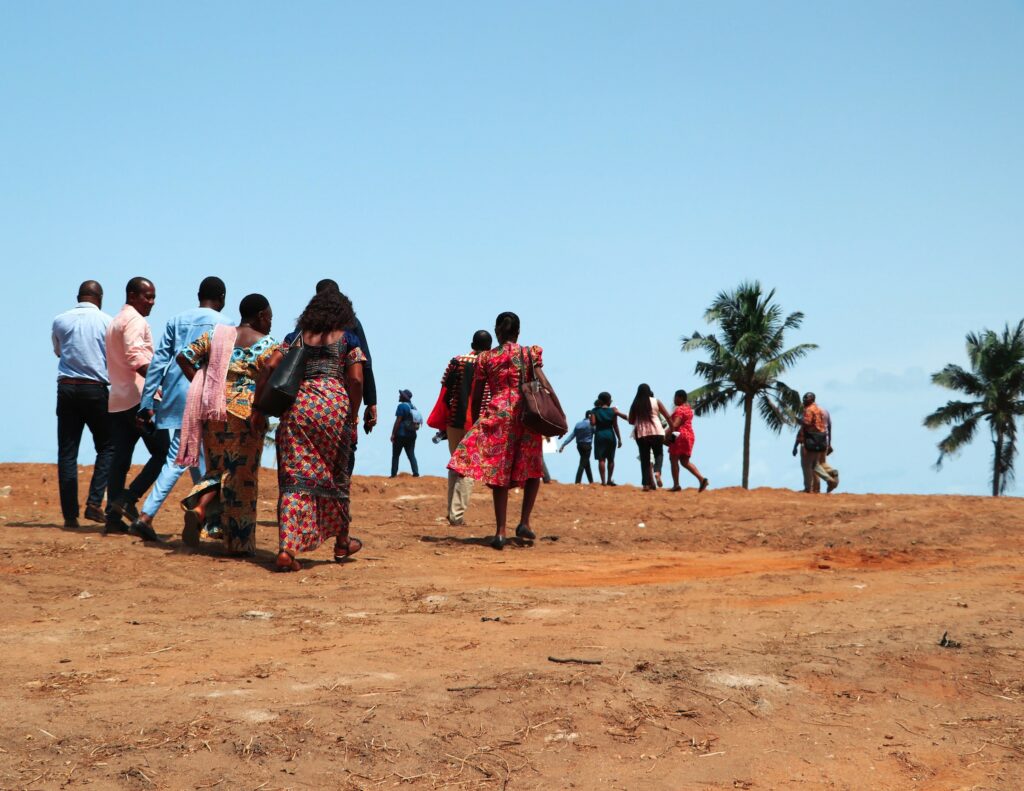 Cape Coast photovoice workshop by Fosu Lagoon
Fishing activity ongoing at Fosu Lagoon
Photovoice submission by John
Cape Coast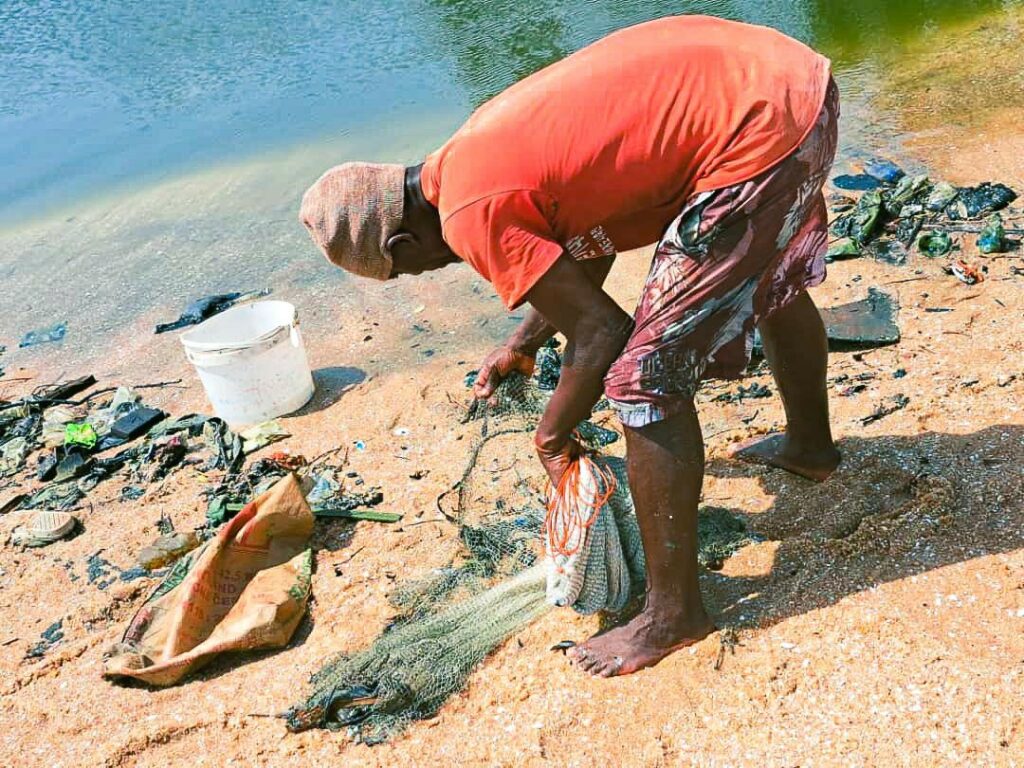 Sand mining at the shore of Fosu Lagoon
Photovoice submission by John
Cape Coast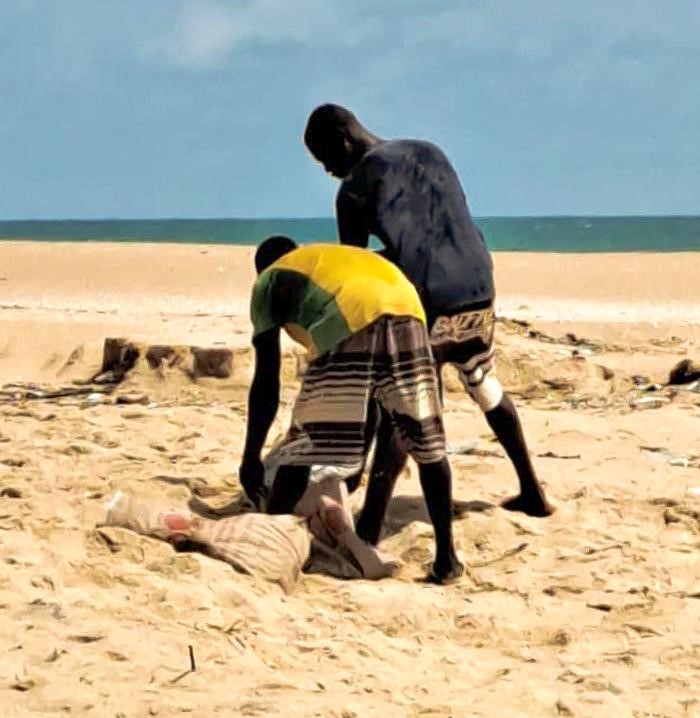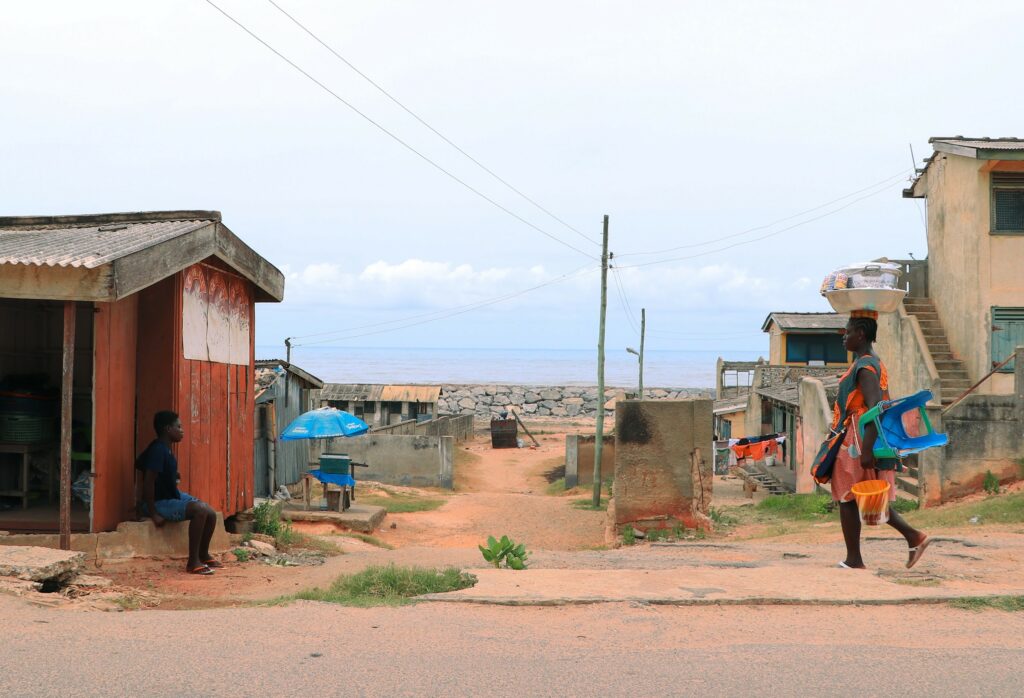 Moving by foot to carry wares for sale close to the water wall.
'Tinker' urges us to embrace the power of community-driven imagination, experimentation and resilience in shaping our urban landscapes. This collection of images captured by residents of both Bo City and Cape Coast, confronts the spaces that demand our collective involvement to forge a brighter, more sustainable future. Tinkering demands our resourcefulness, creativity, and the determination of individuals who recognise the potential for change.
Urban nature is both the canvas and catalyst for tinkerers to utilise available tools and resources to address challenges. These photographs capture the spirit and insights of those who are actively nurturing natural assets in the face of rapid urbanisation, land use change and climate threats. By prioritising urban natural assets, we are not simply preserving nature; we are investing in our own resilience and a brighter future for all.
To tinker means to constantly explore, try, seek the new, the possible, the small seed that can grow wider change. Let these images inspire you to become a tinkerer in your own community. Dispose of waste responsibly, plant a seed, volunteer for a local environmental project, clean your waterways, raise awareness of the importance of urban nature and collaborate with neighbours to breathe new life into forgotten or exploited natural spaces. 
The future is in our hands, and through collective action, we can transform our urban environments, one small effort at a time, creating a legacy of harmony and joy with nature.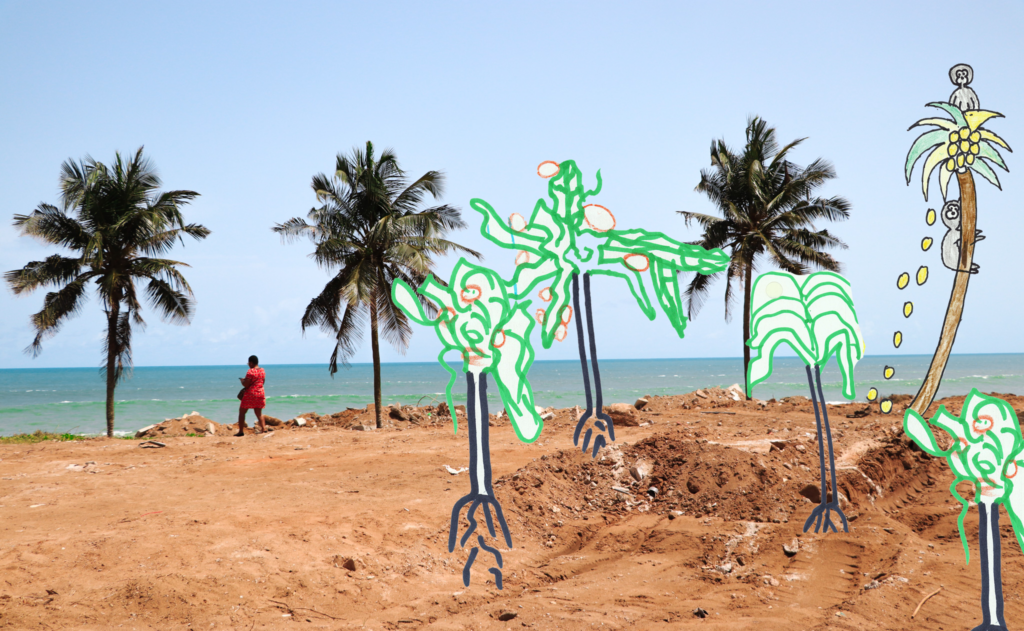 I commit to reducing waste in my environment through re-using materials and recycling what I can.
I will encourage my neighbours to plant trees in their yards to increase urban green spaces.
I commit to educating those around me about nature's contribution to people and our responsibility to safeguard it in return.
We pledge to educate people about how to protect the environment for a better future.
I commit to being more intentional about my spending and purchasing habits. Buying only things I need to limit waste and contribute to a more circular economy.
I commit to limit my use of single use plastics with the goal of recycling plastic bottles I use for the next year
I promise to keep our environment clean, our lagoons and other water bodies should not be polluted so we can use them in the future.
I commit to living with kindness and compassion towards the animals that coexist within our shared environment.
I commit to limiting my footprint on nature
I promise to help educate people about nature and help build back our world. I vow to keep sharing stories, poetry and music about nature.
I commit to choosing reusable items, cherishing their longevity over disposable convenience. I am mindful of my purchases, leaning towards local and organic products that promote environmental harmony and support local communities. I wholeheartedly endorse and support ethical and eco-conscious businesses.
I am Blessing Cornelius, I promise to keep the environment a good place. Thank you!
As the mayor of Bo City…we have land which will highly be considered and [its protection] put into action as a nation and a council. UNA, ICLEI and SwedBio your city-to-city exchange will go far in terms of [fulfilling these] commitments.
I commit to limiting my footprint on nature
Wetlands are not wastelands. I promise to help preserve wetlands and also educate people on the need to do so for the benefit of us all
I commit to keep the environment clean to prevent disease and to help restore the natural environment
I commit to looking for new ways to reduce my footprint and encouraging others to do the same.
I commit to bringing people together so they can have their voice heard and be empowered to create visions for the future of their urban natural assets.
I commit to keep telling stories about my experiences in nature to excite my peers and involve more people to love nature
I commit to give to nature the good things I expect from it in return
The value of urban nature in cities | Urban Natural Assets for Africa: Resilience & restoration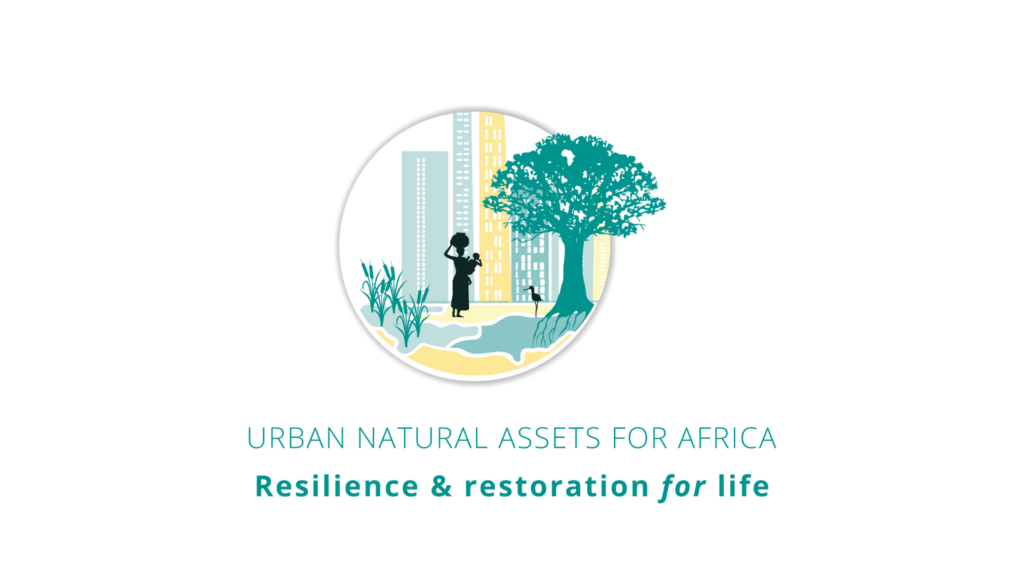 Thank you to the committed city officials of the Cape Coast Municipal Assembly and the Bo City Council who have worked tirelessly alongside the ICLEI Africa team, to co-create and co-design the UNA Resilience programme into what it is today.
Thank you to the Bo City and Cape Coast community members who have participated in and contributed their invaluable perspectives to the UNA Resilience programme since 2021. Without your unique insights into your cities, this exhibition would not be possible. Thank you to the creative and courageous youth who shared their exciting visions for their cities. Your drawings have inspired us to commit to actions that preserve, conserve and tinker for a more sustainable urban future.
Thank you to our generous funder SwedBio for trusting the UNA programme and its process over the last decade.