Recently I had the pleasure to speak to Pieter Mathews, former President of the Pretoria Institute of Architecture, about the importance of cultural identity in Tshwane and how this can manifest in a variety of ways.
As the Convener of the unique Cool Capital Biennale first held in 2014 Mathews was able to offer great insight into an initiative that not only unified a city in spirit but one that played an active role in its daily functioning.
In a country that was once divided by political systems it's important to reinforce identity while at the same time celebrating cultural unification. This unification couldn't be more evident than during last year's biennial Cool Capital, an initiative that celebrates Pretoria as South Africa's Capital of Sculpture (which it is).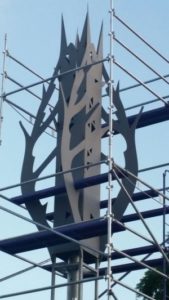 Cool Capital Biennale 2014 is a non-governmental organisation that offers a platform for citizens to explore their relationship with their city in a range of unique and exciting ways. In fact you could go as far as calling some of their interactions with the city as 'uncurated DIY' or 'guerrilla art' as much of the work is carried out by the citizens themselves with approval of the council of course). Aiming to introduce the general public to the wealth of urban art, sculptures and architecture present in Pretoria Mathews said that all the activities were driven by the people for the people and that this work was then promoted online and through their social media channels.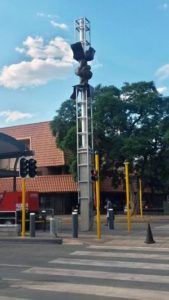 The event ran from 29 August to 15 November 2014 and saw many local artists displaying their art in a wide range of mediums; many of whom have their artwork displayed in the prominent Trent Gallery and Everard Read. From beautiful artistic benches made for public use to sculptures peppered along the A Re Yeng (a rapid transit system developed by the city of Tshwane to offer affordable and convenient transport), no medium was left untouched. Mathews pointed out though the problem with a lot of public art is that it is secondary to the landmark they are often found in and around – they are often never integrated or are 'after fixes'. In the case of the A Re Yeng system the artwork is the most prominent thing because it is literally 'vertical art' which draws your attention. The remainder of the A Re Yeng stations that also feature unique styles were designed by Mashabane Rose architects after the Retro Tram system so what could have been a boring public transport hub adds to the unique history of the surrounding area.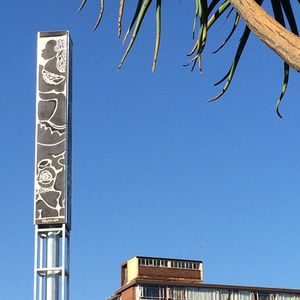 Mathews and Associates are the architects behind the 'memory box' found at areas of heritage significance on the route. The importance here is how art can 'activate' these different spaces and being an art collector himself Mathews knew exactly who to bring in. Mathews says the idea was to tell the narrative of each precinct, of each unique space. For example at Loftus the famous artist Guy de Toit was commissioned. This time round de Toit's famous iconic hare is holding a book in on hand and a rugby ball in the other. The ball is meant to represent recreation and of course the book education, both of which you need to be a 'full person'.
In another case 80-year-old Esta Mahlangu was commissioned to paint a station at the zoo which represents arts and crafts, heritage and history. These are but a few of the hundreds of different displays that came out of Pretoria so it is fortunate that a documentary will be released sometime later in 2015 alongside a 300 page catalogue (visit www.coolcapital.co.za for more information and be sure to follow them on facebook).
Recently Tshwane also hosted the WWF City Challenge that say teams using different forms of transport (like the A Re Yeng) to get from the Tshwane University of Technology to the main train station. This was done to highlight the impact of using private transport on one's carbon emissions and how you can lower this by using public modes. For more visit our summary of the event.
ICLEI Africa will be following next year's Cool Capital event and will also help in promoting the amazing work being done in one of our oldest member cities.