Socially inclusive development: Stories from African cities
Urban climate action should benefit all the residents of a city. ICLEI Africa is championing urban environmental justice by engaging communities, co-creating climate and nature-based solutions and developing demand responsive recommendations for socially inclusive policy.

Cities around the world are increasingly engaging in more inclusive governance to increase their resilience and sustainability. Research has shown that we need alternative models of knowledge production and decision-making to build good governance systems in cities, particularly in emerging economies in the Global South. Social inclusivity and innovation are key elements that should accompany resilient urban strategies and policymaking.
This is particularly important for African cities, which account for more than a quarter of the world's fastest growing cities, and where 'by 2050, almost regardless of government policies, its urban population will have tripled'. This population growth is occurring in an expansive form, which leads to higher rates of land use change than population growth rates alone might imply – with consequent social and ecological impacts. In this context, not only are informal settlements more likely to be in vulnerable parts of the city but residents are less likely to have access to basic services and infrastructure that can reduce climate-related risks like flooding and landslides. Residents are also likely to lack secure tenure, reducing their incentive to upgrade housing and invest in amenities. 
Even though urban planning processes for climate change are increasingly driven by a human rights based approach, they typically do not adequately incorporate informal community voices. In order to take an approach to development that is equal and fair, all voices – especially those living in rapidly expanding informal settlements – need to be heard.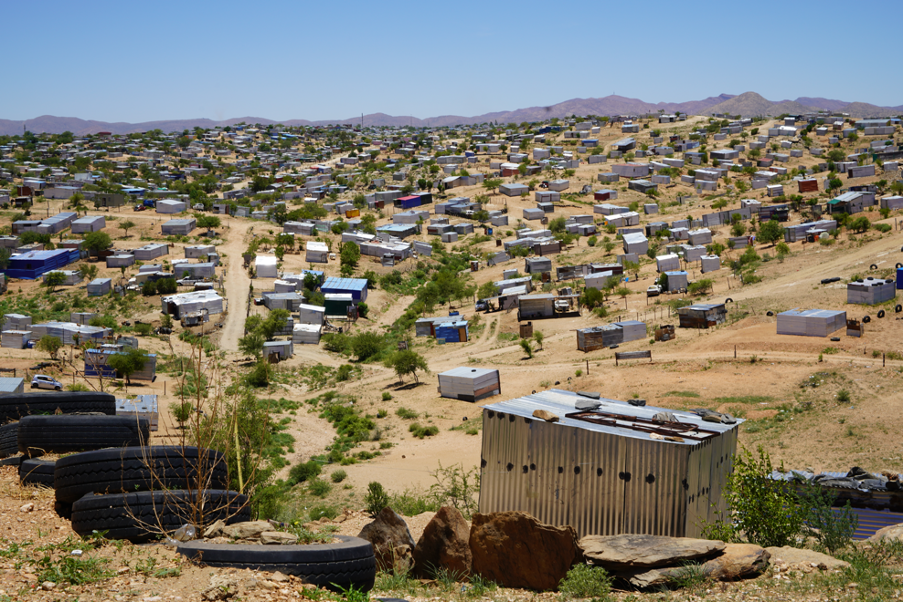 Social inclusivity in policy
Policies will have little effect without the acceptance and understanding of the people directly affected by the changes. Similarly, city-level action to meet various international agreements for climate resilience will be impossible to meet without social inclusivity.
As part of the Peri-Urban Resilient Ecosystems partnership initiative, we compiled ten practical recommendations for any policy maker to follow when planning, developing and implementing inclusive urban climate policies. These include strategising for informal settlement upgrading, continually aligning with the needs on the ground, focusing on the process, not the output, and embracing reflection and adaptability. 
Social inclusivity in practice
One of the key recommendations for socially inclusive policy making is to engage communities when developing policies. It is widely accepted that it's important to involve community members in planning processes right from the outset of policy development. However, for this to happen in reality, there needs to be a culture focused on fostering community engagement among city officials. Policy development should use innovative tools to inspire community ownership and encourage local on-the-ground action. 
The Urban Natural Assets (UNA) programme did this successfully by shifting gears and focusing on knowledge co-production and relationship building to more effectively integrate nature-based solutions (NBS) into land-use planning and decision-making. 
The programme ran a series of engagements in Lilongwe and Kampala connecting a broad range of stakeholders with different backgrounds and mandates, including planners, environmentalists, policymakers, and finance officers. These dialogues raised awareness of the value of nature in cities, created space for reflection on current obstacles and decision-making processes around natural capital, and unpacked how decision-making could be approached differently. The groups decided to create urban natural asset hotspot maps to showcase the location of key natural assets in the city and assign a priority status to each asset based on its vulnerability and how much it contributes to broader city resilience. Planners can use these maps to keep nature top of mind when making decisions and assessing development requests and tenders. 
The maps were successful because they were co-produced and included all voices and perspectives. In practice, the team achieved this inclusivity by:
Facilitating learning and capacity building among decision-makers about

why

nature should be mainstreamed into policies and plans. 

Designing engagements that brought together different government tiers and municipal departments to

collectively reflect

on needs and challenges, and to

co-develop tools and solutions

. 

Ensuring plenty of space for

joint learning, dialogue, knowledge co-creation, networking and connection

. 
Building relationships between stakeholders so they can align priorities, learn from each other, and more readily rely on each other for information and support.