South Africa demonstrates local government's role in localising the SDGs to 'Leave No One Behind'.
ICLEI Africa co-hosted a local government SDG symposium to assess progress made on "Leaving No One Behind" in South Africa. The critical role of local governments in achieving Agenda 2030 was highlighted and ICLEI Africa presented a roadmap for localising the SDGs.
According to the 2019 Sustainable Development Goals Report, South Africa currently ranks 106 out of 156 countries on the SDG index. The Local Government SDG Symposium, held on 25 and 26 July in Durban, therefore had its work cut out to demonstrate the critical role of local municipalities in achieving these goals by 2030, while simultaneously empowering them to do so.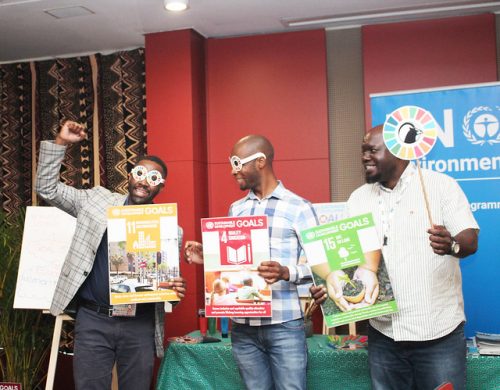 Symposium participants having fun posing with their favourite Goals.
The Local Government SDG Symposium, co-hosted by ICLEI Africa, eThekwini's Municipal Institute of Learning (MILE), the Department of Cooperative Governance (DCoG), and the South African Local Government Association (SALGA), inspired new vigour from South African municipalities toward the Sustainable Development Goals (SDG's) and marked the launch of a Memorandum of Understanding (MoU) formalising both national government and ICLEI's commitment to support the localisation process. ICLEI Africa presented a practical framework and roadmap for localising the SDG's – a new tool valuable for local governments around the world.
A total of 120 people attended, representing government, academia, civil society, the private sector and youth groups. This provided an excellent starting point for assessing South Africa's progress on including the 'Whole of Society' in landing the SDG's in local communities, thereby honouring the United Nation's request to 'Leave No One Behind'.
Less about ticking boxes. More about bettering lives.
Practical, interactive sessions and engaging panels and discussions drove home a key message: people are at the heart of the SDG's and local governments are best positioned to achieve them. The Goals provide a lens through which the existing work of local government can be captured as contributing to the global sustainability agenda. This shift in perspective can help officials identify and fill gaps.
"Why do I place an emphasis on local government to achieve the SDG's? Local government is a crucial partner to respond to, and address, society's key pressure points," said Honorable Parks Tau, South Africa's new Deputy Minister of the Department of Cooperative Governance, who presented the keynote address.
Read his full speech here.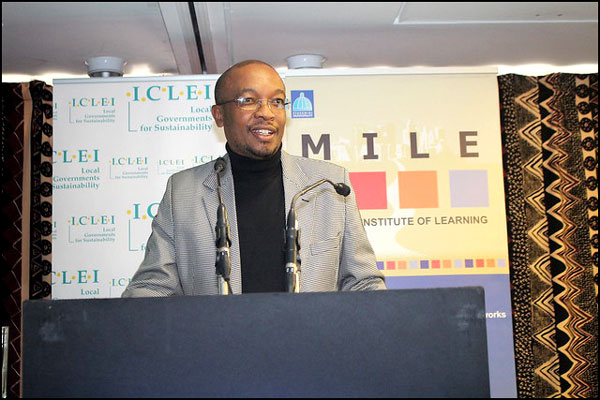 Honorable Mr. Parks Tau, Deputy Minister, Department of Cooperative Governance (DCoG) delivering his keynote address.
In her opening address, Councillor Fawzia Peer, Acting Mayor of eThekwini Municipality, emphasised the need to leave no one behind.
"Although we have made huge progress towards a better world, too many people have been left behind because of who they are or where they live. Ultimately, leaving no one behind requires the transformation of deeply rooted systems — economic, social and political, governance structures and business models at all levels, from local to global."
Dr Mpilo Ngubane, Acting Deputy City Manager for Corporate and HR of eThekwini Municipality, instilled hope on this journey.
"We are the first generation that can end global poverty. We are the last generation that can address climate change before it is too late. Through deeper engagement of all sectors of society, we can realise the promise of the 2030 Agenda and the Sustainable Development Goals."
A key outcome: establishing a new platform to support local government
Reiterating the need to involve all sectors of society, Kobie Brand, ICLEI Africa's Regional Director noted that "we need an integrated approach and multi-level governance when it comes to localising the SDGs. This will ensure that there is horizontal and vertical integration and we truly leave no one behind."
A closed roundtable discussion following the event heeded this call and established a multi-level governance platform responsible for coordinating South Africa's support in localising the SDGs. Going forward, ICLEI Africa will support the National SDGs Coordination Mechanism to enable stronger support for local governments.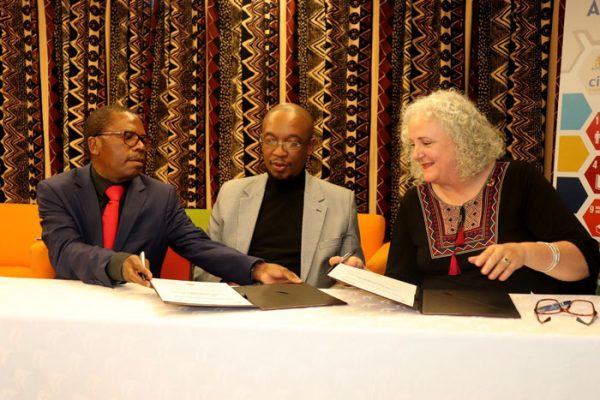 The signing of the MoU between ICLEI Africa and the Department of Cooperative Governance (DCoG). From left: Mr. Dan Metlana Gorbachev Mashitisho, Director General, DCoG; Honorable Deputy Minister Mr. Parks Tau, DCoG; and Kobie Brand, Regional Director, ICLEI Africa.
The new MoU, signed at the event between ICLEI Africa and the Department of Cooperative Governance (DCoG), together with ICLEI's longstanding MoU with SALGA and partnerships with other key national departments, will support local government's spatial urban transformation through the Integrated Urban Development Framework (IUDF).
"It is the local government sphere that is best positioned to respond to a trust deficit between government and society, reach and realise an All-of-Society Approach, realise citizen-centric partnerships, and ensure that we #LeaveNoOneBehind," tweeted the IUDF.
Representatives from various government departments including DCoG, the Department of Monitoring and Evaluation (DMPE), Statistics South Africa, MILE and SALGA, took part in the roundtable discussion, signalling the way forward.
Locally tailored, internationally applicable
The Symposium was practical and engaging. ICLEI Africa's Timothy Blatch spoke on a particularly impactful panel entitled 'Experiences, learnings and knowledge exchange on the SDGs at local level'.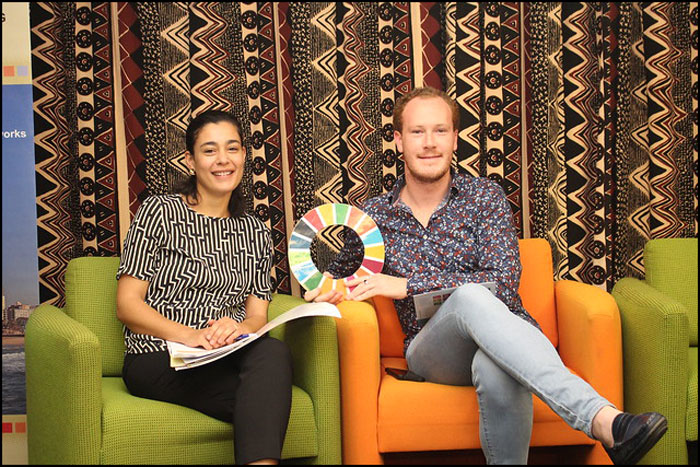 Timothy Blatch from ICLEI Africa and Dr. Sylvia Croese, African Centre for Cities (ACC), University of Cape Town speaking at the panel, 'Experiences, learnings and knowledge exchange on the SDGs at local level'.
Blatch challenged participants not to view the localisation of the SDGs as an onerous reporting burden for local municipalities, but rather as an enabling framework within which existing efforts can be captured as contributing to achieving the Goals. It goes beyond ticking boxes. The implementation projects should be seen as ways to transform the lives of the people that make up our urban communities. Planned developments and added services are more than the reports they appear in – they fundamentally impact human wellbeing.
The Goals themselves are designed as a useful log frame for tracking progress, identifying gaps and challenges, and essentially transforming our cities and the lives of urban and rural populations.
The session went beyond discussion to offer practical take-home tools. Blatch guided participants through a brief, easily understandable brochure, created by ICLEI Africa, providing four steps on the roadmap to localising the SDGs.
Awareness and understanding – includes campaigns, connections to current work and assessing community needs
Strategic embedding – includes education, understanding current efforts and gaps, and linking SDGs to national plans and guidelines
Implementation – includes partnership building, roles allocation and interventions
Review, measure, monitor and report – includes data collection & analysis, decision-making, performance reviews and refinement
While the presentation itself was tailored to South Africa, this roadmap can be applied in any city committed to 'Leaving No One Behind'.
Download it here.
"In essence, the localisation of the SDGs is about doing what we should be doing… well!" explains Blatch. "This starts with champions who are able to strategically embed the SDGs in integrated planning and decision-making processes."
WESSA, as a contributing partner to the Symposium, hosted an exciting and dynamic session that sought to improve awareness through the use of their SDGs board game, which was equally useful for technical staff in municipalities, youth groups and city leaders. The session was a crowd favourite. The excitement continued during a world café participative component, where attendees were able to deep dive into the SDGs in their local contexts.
The Symposium ultimately provided a platform for reimagining how the SDGs can be achieved by 2030 as well as the tools and commitments needed to get there. All the presentations can be downloaded on MILE's website here. Pictures of the event are found in this online album.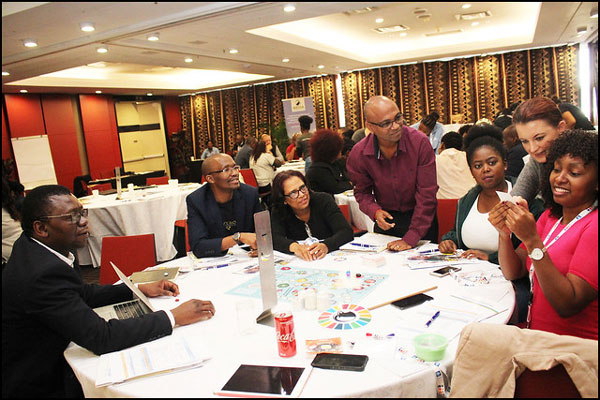 Facilitated by WESSA, the SDG board game was a crowd favourite.