UCLG Africa and ICLEI Africa announce a new strategic partnership
United Cities and Local Governments Africa (UCLG AFRICA) and ICLEI – Local Governments for Sustainability – Africa (ICLEI Africa) are very pleased to announce a strengthened collaborative partnership to accelerate the localisation and implementation of – and contribution towards – the global and African development goals and targets at subnational level.
"I am very happy to announce that UCLG AFRICA and ICLEI Africa have had very fruitful, in-depth discussions over the past few days, and that we have now reached a point where we are stepping up our action," says Kobie Brand, Regional Director of ICLEI Africa.

"We will be working in a closer and much more collaborative way as we move forward to address the challenging issues that are facing the African continent in terms of sustainable development. I thank UCLG AFRICA, in particularly Jean Pierre Elong Mbassi, for the hospitality and for receiving us with such a warm welcome."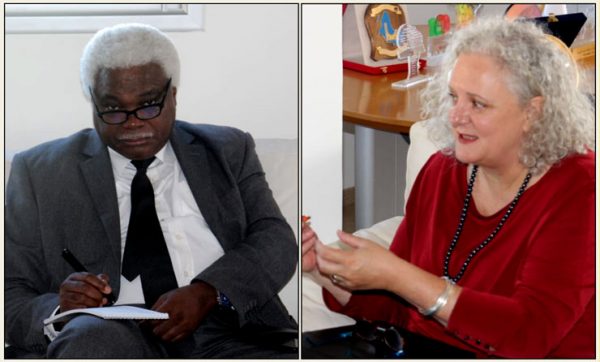 A Memorandum of Agreement between the two institutions will be signed in Accra, Ghana during Africa Climate Week (18 to 22 March 2019).
This collaboration builds on, and is complementing the existing formal partnership between UCLG and ICLEI at global level as renewed and strengthened in 2018 through a new global-level MoU and is particularly important in the framework of the UCLG Africa Climate Task Force which brings together all interested parties in the strengthening and empowerment of subnational and local governments' role in the climate change and sustainability agenda.
ICLEI Africa will now be recognised as the Technical Lead of the Climate Task Force, alongside UCLG Africa, initiator and political lead of the Task Force. Launched during the UNFCCC COP 23 in 2017, UCLG Africa's Climate Task Force, co-convened with ICLEI Africa, as technical lead partner, aims to coordinate climate action in favour of local governments on the African continent.
Chaired by the Mayor of Chefaouen, Mayor Sefiani and Seyni Nafo, Leader of the African Group of negotiators on climate change, this Task Force counts a lot of technical partners among its members, including the Green Climate Fund, the African Development Bank, GIZ, AFD and the West African Development Bank. ICLEI Africa will now take charge of defining the programme of action of these technical members, alongside UCLG Africa.
The Regional Director of ICLEI Africa, Kobie Brand, visited Morocco from 25 to 27 February 2019, with the support of the Covenant of Mayors in Sub-Saharan Africa (CoM SSA). The respective roles in this programme were discussed in detail during the visit, and further phases of the initiative also mapped out.
Download the full Communique

here.
Watch Kobie Brand's full video interview

here.