The 54 month European Commission funded "Sustainable Urban Resilient Water for Africa: Developing Local Climate Solutions" project which is now heading towards the close of year two.
The project saw six implementing local authorities moving from the inception phase of conceptualisation towards understanding their local climate risks and vulnerability. We have had an exciting year working with experts from CSAG, WAMTECH and developing key resources for the cities to utilise in preparing to assess climate impacts.
ICLEI in partnership with our project cities are now in the process of planning for the next round of project workshops, the first of which was held by ICLEI Africa in partnership with Walvis Bay Municipality from 14-16 October 2014.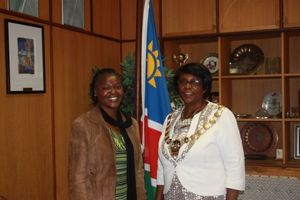 The workshop was held over three days and aimed to present and ground truth the information that has been developed in collaboration with experts at WAMTechnology to provide the project cities with a baseline assessment of their water and sanitation infrastructure at a city level, and the risks of said infrastructure to flooding and drought at the local level. The team further presented feedback on the regional and downscaled climate systems analysis reports that were developed by CSAG based at the University of Cape Town to provide the municipality with a projection of the impacts of flooding and drought into the future.
The ICLEI Africa team then trained participants on the use of the ResilientAfrica Interactive Online tool which is designed to assist local governments formulate strategies and plans to inform and support climate compatible development. The team intend for the interactive tool to not only assist the municipality in prioritising its climate adaptation options but further to build resilience at the local level and to feed into the development of the SURe Water local action plans.
The final day of the workshop was dedicated to participatory community engagement with Tutaleni, the projects focus community, and neighbouring communities. Following feedback from the Climate Systems Analysis and the Risk and Vulnerability assessments, community members went through a process of identifying and prioritising adaptation options that they currently implement or would like to propose that the municipality puts in place in order to alleviate negative impacts of flooding to their households. Information collected from the community will also feed into the municipality's strategic planning via the ResilientAfrica Online tool. As a result, the municipality will be able to use the collective information to structure adaptation strategies that are informed by the concerns and voices of its community members.
ICLEI Africa concluded the trip by visiting Mayor, Cllr.Uilika Nambahu to brief her on the project, as well as inform on the way forward in achieving outputs as set for project. The Mayor reiterated her interest in the project and committed to supporting municipal departments that are leading Walvis Bay's participation.