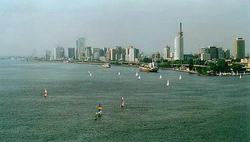 The 6th Lagos Climate Change Summit was held from 18 – 20 March on Victoria Island in the large ICLEI Member City of Lagos, Nigeria. This important African congress series has dealt with a range of themes in turn.
Last year's event focused on adaptation and vulnerability of housing and infrastructure; this year, the topic was pragmatic and local: "Exploring Business Opportunities in Climate Change: Lagos State in Focus". Since its maiden event in 2009, the Lagos Climate Change Summits have brought together a wide range of local, regional and even international actors, to the economic and demographic hub of West Africa. This has included numerous ICLEI staff, and other ICLEI members over the years, and this year drew ICLEI President David Cadman.
This year's Summit, took an unusual angle by focusing on the business side of the phenomenon – namely viewpoints on investment in the vast global carbon market. The question of to what extent Nigeria and other parts of Africa should get involved in this industry, and how this can best be done, presented themselves to the assembly.
Lagos State is already pioneering ways of making sustainable development processes financially self-sufficient. Its Municipal Solid Waste (MSW) Composting Project, registered with the UNFCCC in December 2010, has been a great success. The City's Lagos Waste Management Authority (LAWMA) has also been very successful at turning waste into wealth whilst curbing carbon emissions. In addition, Lagos has worked with National Government in promoting the "Save80" Fuel Efficient Wood Stove, which reduces the amount of wood that needs to be burnt by 80%.
For more information:
www.environewsnigeria.com/2014/03/14/business-unusual-at-6th-lagos-climate-summit/
---