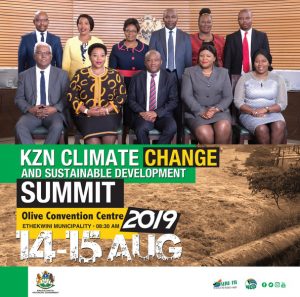 The province of KwaZulu-Natal felt the impact of climate change acutely this year. In April, 71 people died and thousands were displaced following severe flooding. Premier Sihle Zikalala acknowledges that climate change is partially responsible for the severity of the floods. He also noted the annual sardine run – an iconic and internationally renowned natural event for the province – is also tangibly affected by climate change.
In an effort to address these and other interrelated climate challenges, the provincial government organised its first provincial climate change and sustainable development summit. Held on 14-15 August, the KwaZulu Natal (KZN) Climate Change Summit was hosted by the office of the KZN Premier, the KZN Department of Economic Development, Tourism and Environmental Affairs, and the KZN Department of Cooperative Governance and Traditional Affairs. ICLEI Africa's Senior Manager for Climate Change, Energy and Resilience, Dr Meggan Spires, attended the event.
"My main take away messages were that we can be proud as South Africans – particularly those that recognise the threat of climate change – of the ethos and commitment that all levels of government represented showed towards significant climate action."
While it's possible to harness low hanging fruit for climate solutions, such as assigning a climate change champion to coordinate a city's climate change action, the vast majority of solutions, especially those that are transformational, require grappling with complex and often entrenched systems. It's easy to become overwhelmed. However, our cities continue to inspire. The KZN government wisely provided a platform for numerous local governments in the province to share their climate change journeys during the Summit, including Kwadukuza Local Municipality, Umgungundlovu District Municipality, Umhlathuze Local Municipality and eThekwini Metropolitan Municipality.
"Participants were blown away by what these municipalities have achieved in terms of climate change action. Some have been aided by external funding and support, but the key ingredient to their success has been the will of often a small group of champions in each of the municipalities," explains Spires. "It is these people who we as South Africans should be applauding, as they continue to strive to be change-makers for the betterment of society."
ICLEI Africa is deeply invested in playing our role, to advocate, support, connect and profile the outstanding work being undertaken in the KZN province, and we look forward to deepening our partnership with all tiers of government in South Africa to take this work to new heights.