9 July 2014 marked a momentous occasion for ICLEI Africa as it launched the State of African Cities 2014: Re-imagining sustainable urban transitions report in South Africa. The report seeks to stimulate discussions on the need for radically different, re-imagined development visions to guide sustainable urban growth and other transitions in Africa over the decades to come. The State of African cities 2014: Re-imagining sustainable urban transitions was realised in close cooperation between UN-Habitat, ICLEI – Local Governments for Sustainability – Africa and UCLGA and also received support from the British High Commission – South Africa office.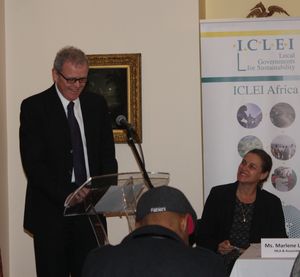 In his welcoming remarks, the Consul General of UK to Cape Town highlighted the importance of the reports as they assist in taking stock of progress made by cities in Africa towards attaining their sustainability targets. "While there are challenges for African cities to cope with rapid urbanisation, there are also opportunities to make the most of these developmental imperatives – resulting in cities and urban regions that are more resilient to climate change", remarked Mr Chris Trott. The report was launched at the Residence of the British High Commissioner to South Africa. Present during the launch were the Consul of France to Cape Town, Mr Xavier D' Argoeuves, the Deputy Mayor of Cape Town, Alderman Ian Neilson, councillors, representatives from local and sub national governments, researchers, academia to name a few.
Marlene Laros, who led the team from ICLEI Africa in compiling the report in close collaboration with the team from UN-Habitat, then gave a brief summary on the key findings of the report. Following the summary, she facilitated a very engaging and interactive panel discussion.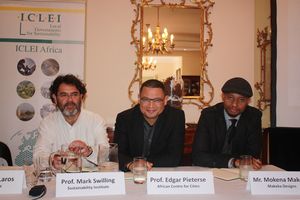 The panel comprised thought leaders and leading researchers on urban issues; Mark Swilling (Sustainability Institute), Edgar Pieterse (African Center for Cities) and Mokena Makeka (Makeka Designs). The panellists raised riveting comments and observations on the current urbanisation trends on the continent as well as related implications of the trends. Participants were also invited to contribute to the discussion and there was a consensus as the session drew to a close that time is nigh for a paradigm shift and "business as usual' will deter and derail efforts towards sustainability. The report states that Africa's development aspirations are unlikely to be achieved by the urban development approaches it has applied over the past decades.
For more information download the press release here.
"ICLEI Africa was commissioned to lead and coordinate development of the State of African Cities 2014: Re-imagining sustainable urban transitions report by UN-Habitat. Marlene Laros who led the team from ICLEI Africa in the process speaks to Michael Avery, Business Show Host, Classic FM on key findings from the report." Listen here.
View Gallery by clicking the image below