Training the way to a more resilient future
Read what our Urban Natural Assets programme officials had to say about Planning with Nature for Improved Service Delivery – the first facilitated online course by ICLEI Africa.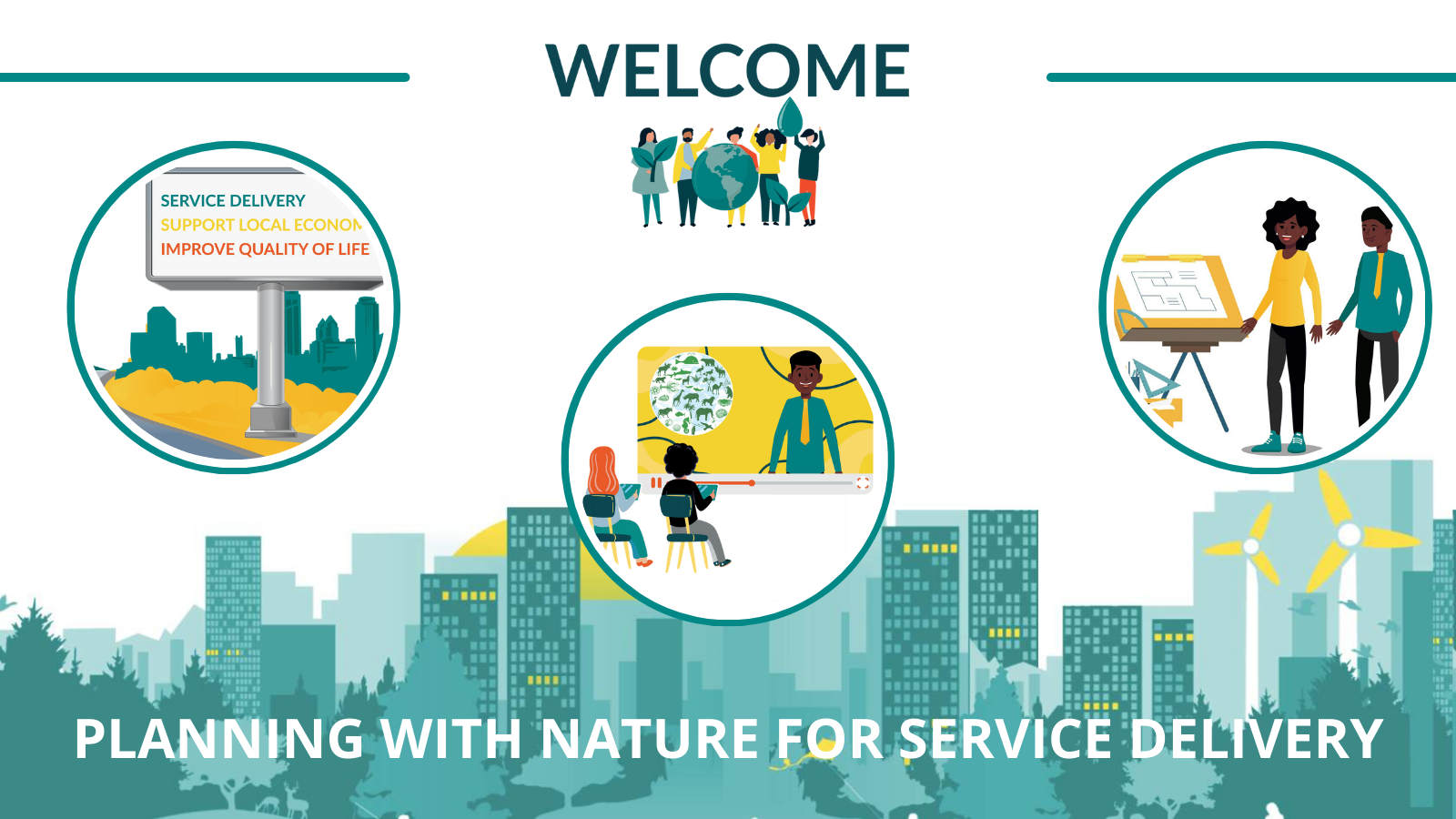 ICLEI Africa's new virtual learning platform, Learn with ICLEI Africa was launched in August 2021. Born out of a need to continue connecting with our member cities in the post-pandemic world, Learn with ICLEI Africa takes capacity building and knowledge sharing into the virtual realm. The idea behind the platform is simple: information is the key to decisive action.
One of the flagship courses on the new learning platform is Planning with Nature for Improved Service Delivery. This 11-module course grew out of the Urban Natural Assets (UNA) programme and links to its core values of capacity development, information sharing and co-development. This first round of the course was aimed at UNA city officials and was facilitated by ICLEI Africa in order to promote dialogue and knowledge generation, and encourage networking and impactful learning. The next round will be open to a wider audience.
The overall aim of the course is to enable city planning officials in Africa to implement nature-based planning approaches to build resilience in the face of rapid change, and learners will walk away from these lessons being able to apply alternative approaches to planning for improved service delivery. Topics include Urban Tinkering, Area-based Upgrading, Scenario Planning / Futuring and Resourcing Alternative Planning, among others, all within the theme of solving the complex and interrelated issues that arise in urban African contexts, with small-scale, relevant and locally applicable solutions.
We caught up with one of our recent participants in the UNA course, Mr Isaac Luwaga Mugumbule, to hear about his experiences. Mr Mugumble is the Head of Landscaping at the Kampala Capital City Authority (KCCA).
What was the main thing you learned from this course?
Solutions to most of the urban challenges can be sourced from the community or residents. It only requires government officials to attentively listen to the challenges, encourage dialogue between communities and government officials, and thereafter work with the community to implement the solutions in order to ensure sustainability.
What did you enjoy most about the course?
The mode of delivery was very simple, practical and straightforward. There were a lot of visual aids and interactive discussions which made it easier to comprehend within a short period of time.
Why should government officials do this course?
It will help them conceptualise and implement solutions in a timely manner as opposed to waiting for large government fund allocations, or avoid implementing projects halfway and later abandoning them. This new thinking and approach will increase public satisfaction in regards to the services delivered by government.
What lessons from the course will you take forward into your job?
I would want to take everything I have learnt and not leave anything. The most important lesson to me was being able to conceptualise a project and implement it at a small scale, and then using this project as a catalyst to scale these interventions across an urban area.
Are online learning tools useful for you as an individual and for your job?
Yes, they are. They offer flexibility in terms of learning and that you can learn outside working hours or when in a traffic jam heading home. The only shortcoming is in regards to the quality of our internet infrastructure which either delays the downloading of information or poor quality audio during the classes.
Are you able to share the learning with colleagues?
Yes, I am and the design of the content makes it easier to guide oneself through the entire course without a facilitator.
Do you have any recommendations that you would like to see moving forward?

I would like to see more academia adopt this platform and incorporate this content in the syllabus because this will greatly improve the quality of graduates that will be joining government. This could also be made mandatory by government officials as part of capacity building of the staff members.

Learn more about the work of UNA Resilience & Restoration for Life, the latest project being implemented under the UNA programme.
Although this first round of the course was open only to UNA's project cities, in future this course will be open to the public, and further facilitated rounds are planned to take place. 
Register your interest here for the next round of the Planning with Nature for Service Delivery course, and sign up for a free account on Learn with ICLEI Africa to be the first to find out about new courses.