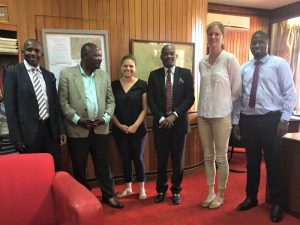 In a world where significant environmental changes are affecting global communities, researchers are challenging the view that science is superior to local knowledge and acknowledging with respect and care, the lived experience of those dealing with the impacts of climate change. These transformative ways of learning invite all who call a city home to co-produce practical interventions that can truly enhance resilience in their cities. This is the hallmark of the FRACTAL project.
In George, an informal settlement outside Lusaka, Zambia, young people are using poetry and acting to express how climate change is impacting their daily lives. As the capital's urban population continues along its rapid growth path, government's capacity to support it is tested, especially in securing safe drinking water. Climate change is compounding this with rainfall predicted to decrease and become more erratic in coming years. The late-2017 cholera outbreak in Lusaka, for instance, which infected almost 6,000 people, was worsened by unexpected floods.
The youth performances are articulating the lived experience of dealing with these and other climate change related challenges acute to the urban poor. One could say they feel the effects more personally and more profoundly than those making decisions on their behalf. The People's Process on Housing and Poverty in Zambia (PPHPZ) organises such initiatives, which are reaching up from the ground, but a deeper shift is needed to close the gap between scientists, researchers and decision-makers and the lives they're impacting.
FRACTAL Is levelling the ground for Change

Over the last four years, the Future Resilience for African Cities and Lands (FRACTAL) project has been working across Africa to encourage a new way of learning that is reflective, creative and transformative. ICLEI Africa, a key partner, recently led and supported a number of activities in Southern African cities and beyond to reveal how experiential learning that includes those who live the reality, can lead to real change.  The project's starting point is distilling locally relevant climate information. Traditionally, a research organisation would produce this information, search for entry points in the decision-making process, and insert the information there. But according to Jessica Kavonic, one of ICLEI Africa's research gurus, this is far from adequate for facilitating change, as decision making is nuanced, complex and often impacted by financial and political dynamics.
"A fundamental shift in planning and decision making is required by cities;one that incorporates ongoing learning and
knowledge construction,reflection and relationship building," explains Kavonic."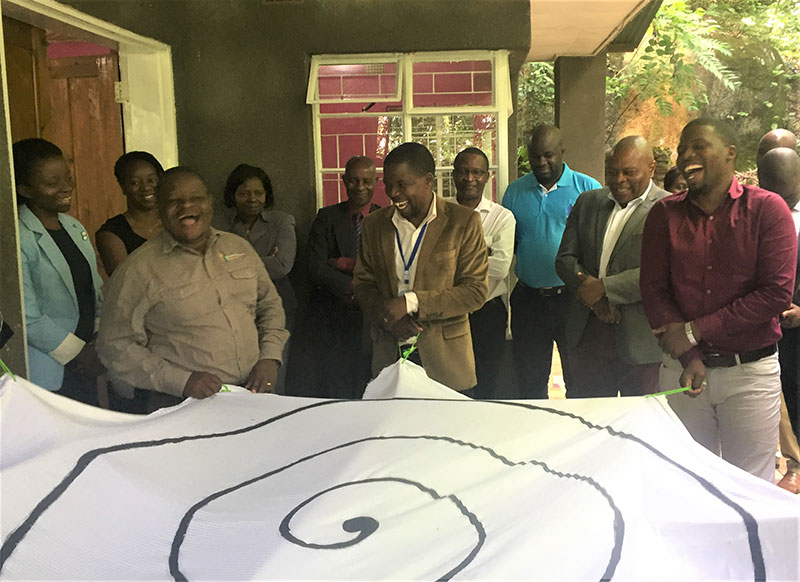 Officials play a game called Co-ordination is a maze informally at the
FRACTAL Learning Lab in Blantyre, Malawi, as an interactive way to explore the current realities in their city.
Transformative learning in four African cities.

Blantyre, Harare, Gabarone and Lusaka recently played host to FRACTAL events that demonstrated the value of experiential learning. Blantyre in Malawi and Harare in Zimbabwe both received a Small Opportunity Grant (SOG) through FRACTAL to reflect on climate change decision-making pathways in the water sector. Instead of researchers presenting previously established climate information, city representatives were an integral part of the process. Learning labs, a trademark FRACTAL method, unpacked the current reality: opportunities, challenges, mandates, and the daily experience of officials as they live and work in their cities. Together they drafted a context-specific policy brief for each city to formalise their recommendations to improve climate change decision making. A representative from each city visited the other to share knowledge and experience, thereby creating a community where cities feel supported on their climate change journeys.
In Botswana, researchers presented relevant climate information for Gabarone during a Climate Change 101 workshop. By following this with transformative leadership training, everyone from department heads to councillors learnt how to become climate champions in their contexts. The city also flagged the need for a climate change strategy and action plan. Facilitators let go of the reigns and encouraged participants to envision what they think a climate resilient Gabarone might look like, and through scenario planning, fed these ideas into a plan that is relevant and achievable for the city.
At the Urban Resilience Caucus in Lusaka, all nine FRACTAL cities got together to reflect on the experiential learning of the past four years. ICLEI Africa and START ran a session to enable continued learning post FRACTAL. This session engrained the lessons learnt: that the process is as important as the outcome, and that enabling participants to impart to others the value of following the process will ripple a new perspective throughout the city.
Taking African Learnings to the International Community.

In June 2019 the FRACTAL team demonstrated transformative learning methods and their impactful outcomes in Africa at two international events. The annual Resilient Cities Congress in Bonn, Germany, marked the official launch of FRACTAL's 12 Principles for Resilient African Cities. Based on the Stockholm Resilience Center's resilience principles, this version is tailor-made for African cities. They were co-developed by all voices: city officials, researchers, and communities and funders. 'Africanised' advice includes embracing informality, valuing diverse perspectives, and taking into account both formal and informal aspects of governance, especially acknowledging social networks. See all 12 principles here.
FRACTAL further demonstrated the importance of co-exploration during various interactive sessions that formed part of Resilient Cities. These broke down power dynamics, built trust between strangers, reminded people to meet each other as human-beings, not just job titles, and allowed superficial interactions to become real connections. Read more about two particularly impactful sessions here.
At The Nature of Cities Summit in Paris, France, the team advocated for a fundamental shift in planning and decision making in order to integrate nature into urban planning. This shift should be fuelled by ongoing learning and knowledge construction, reflection and relationship building.
Radically Co-Imaging a resilient Africa

When we leave our titles and designations at the door, we find ways to unravel the uncertainty of climate change's complex and interconnected challenges.
"Transformative ways of learning are essential for supporting knowledge construction, reflection and relationship building.
These softer elements are often undervalued in building climate resilient cities, but FRACTAL proved them to
be among the most important to ensure sustainable change in planning and decision making," says Kavonic.
Co-production, co-exploration and transdisciplinarity provide spaces for radical shifts in how stakeholders engage and how decisions are being made. Through FRACTAL, the theory underpinning these terms is put into practice, ultimately making African cities more resilient to the inevitable impact of climate change.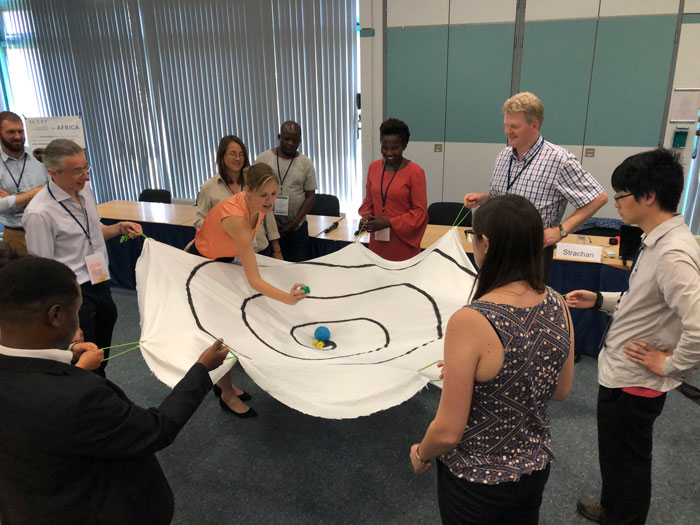 Kate Strachan from ICLEI Africa leads a games session at the Resilient Cities Congress in Bonn, Germany to demonstrate the games' success.
Transdisciplinarity: Bringing together various types of knowledge and ways of creating knowledge from across academic disciplines and from sources outside of academia to better understand the complexities and uncertainties of contemporary society, and to address its problems and challenges.
Co-production: Producing knowledge that is not only scientifically robust, but also socially robust and thereby more readily applicable for addressing real-world problems in a given context. No one actor or discipline claims superior knowledge of the question, issue or problem being addressed. A dialogue based on mutual respect is required between people and groups of people with different knowledge and ways of thinking.
Co-exploration: A participatory process that brings climate scientists, policymakers and practitioners together to ask questions of each other, share knowledge, and develop a joint understanding of what is needed of climate science by decision-makers and what is scientifically feasible and defensible in terms of meeting that need. The boundary between science and policy is not crossed.
Definitions based on a working paper by FRACTAL researchers, available here.