CHANGING CITIES webinar series
The third Tuesday of every month from 14:00 to 15:30 CAT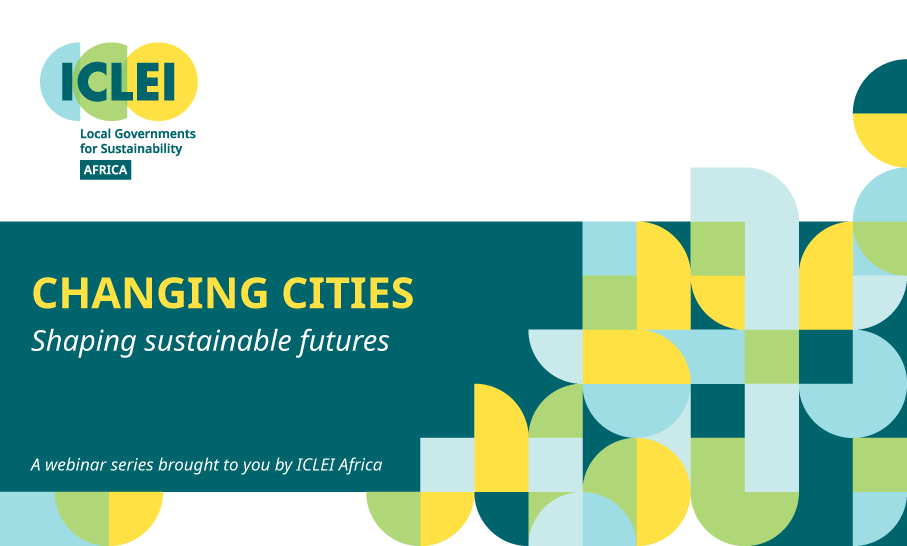 20 April 2021, 14:00 – 15:30 CAT
Building climate resilient cities through improved multi-level governance
How can multi-level governance enable climate resilient development? Case studies from four African cities.
18 May 2021, 14:00 – 15:30 CAT
African cities acting for nature
How are cities in Africa responding to the urgent call by Antonio Gueterres, UN Secretary General, to reconcile with nature and to show ambition, stop the assault on our planet, and do what we need to do to guarantee the future of next generations?
15 June 2021, 14:00 – 15:30 CAT
Where the two meet: lessons from the planned and unplanned city
How can we better support service delivery in the face of rapid urbanisation and emerging informal economies?
6 July 2021, 14:00 – 15:30 CAT
Climate research and evidence for development
How transformative capacities can shape sustainable futures. This webinar showcases ICLEI Africa's work linked to developing demand responsive evidence, innovation and capacity to enable developing country governments and communities better address climate change challenges and opportunities and develop more effective disaster risk management and recovery
20 July 2021, 14:00 – 15:30 CAT
Sustainable food cultures: how our appetites can transform our cities
We are what we eat, and so are our cities: how we make, share and consume our food has the potential to positively shape urban food systems.
17 August 2021, 14:00 – 15:30 CAT
Financing the Decade of Action: progress in African cities
Never before has it been more important for finance to be used as a tool for unlocking transformative sustainability action in African cities. 
7 September 2021, 14:00 – 15:30 CAT
Tangible action
How local demonstration projects catalyze scaled climate action; How do you implement on-the-ground projects that are scalable, replicable and can leverage additional finance? Join ICLEI Africa to learn from the Urban-LEDS pilot cities
21 September 2021, 14:00 – 15:30 CAT
Future-proofing urban mobility: exploring routes to resilience
How can cities approach building resilience into their mobility systems to ensure that these remain affordable, accessible and convenient, in the face of mounting challenges and crises?
19 October 2021, 14:00 – 15:30 CAT
Planning for whom? Towards inclusionary planning paradigms in African cities
How can urban planning in African cities be more equitable, participatory, and responsive to the constantly changing needs and realities of our cities and people?
16 November 2021, 14:00 – 15:30 CAT
Local protected areas and green spaces helping to reconnect people and nature for improved health and wellbeing
How can African cities use local protected areas and green urban spaces to improve the health and wellbeing of urban communities and address issues of safety, access and equity?
Topics and dates may change at any time.
Past ICLEI Africa webinars
Lessons from past and present crises 
Systems approaches to food & nutrition security and resilience: Lessons from Cape Town and Kumasi