ICLEI Africa is honoured to welcome its five newest members – a group of coastal cities from Mozambique.
All five are important coastal ports; all are threatened by flooding and climate change; and all came as a united delegation to the LOCS4Africa 2017 Congress, in Ekurhuleni South Africa. These cities already have strong linkages – through the USAID Coastal City Adaptation Project. To start from the south, and head northwards: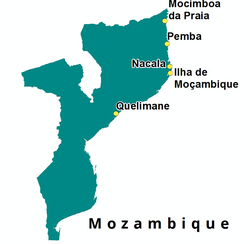 Quelimane is the administrative capital and largest city of Zambezia province.
Ilha de Moçambique – Mozambique Island itself – is an offshore island with an illustrious history. It was the seat of an independent Sultanate, then the colonial capital of Mozambique, and it is now a UNESCO World Heritage site.
Nacala is an important railway hub and has the deepest natural port on the entire east coast of the African continent.
Pemba is the capital city of Cabo Delgado Province, and it is a well known tourist destination because of its history, culture and natural beauty.
Mocímboa da Praia, in the far north, near the Tanzanian border, is an important border hub, for trade and travel, and is the seat of Mocímboa da Praia District.