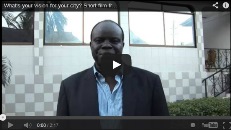 In this short film ICLEI Africa asked everyday citizens, as well as some delegates at the Local Climate Solutions for Africa Congress in Dar es Salaam, Tanzania, what their hopes and dreams were for the city they call home… this is what they had to say.
The video was made possible by funding from Practical Action via the ELLA Learning Alliance.
It portrays the hopes and dreams of citizens for a city which is clean, well-functioning and that they can be proud of.
What is your vision for your city? Let your local government know.
This is the second film emerging from the highly successful LOCS Congress which took place in Dar es Salaam, Tanzania from 31 October – 01 November. The first gave a snapshot of the discussions and outcomes at the Congress itself.
Find out more about the LOCS Congress here
Find the LOCS Congress summary video here
Find out more about Dar es Salaam here