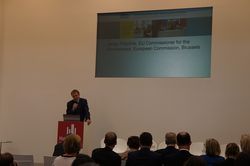 The ICLEI Global Town Hall @ Metropolitan Solutions opened with businesses and cities coming together to create brighter futures for its citizens.
"Cities fighting climate change and mitigation are cities where people are sitting together (transport, businesses, buildings, governments) and working with each other towards finding solutions. You need to get out of your box and think ambitious targets," said, Vice Mayor of Rotterdam and ICLEI Global Executive Committee Member, Alexandra van Huffelen.
The tone for the opening of the Global Town Hall at Metropolitan Solutions was integrated approaches. Cities need to explore collaborative efforts with partners to find solutions. The federal government of Germany is already working towards providing financing to support cities. Dr. Barbara Hendricks, Federal Minister for the Environment, Nature Conservation and Nuclear Safety, Germany said, "Towns and municipalities play a major role in the world. Many measures can only be started locally because this is where lives happen." In this spirit she revealed that the German federal government has made €700 million available to be invested in municipalities and towns and municipalities will have up to €2 billion available with co-financing towards making more livable cities.
Gϋnther H. Oettinger, EU-Commissioner for Energy reinstated the need for prohibitive measures in cities to ensure livable cities for the future generations. He said that the focus of the EU in this year was ICT, Mobility and Energy. Futureproofing is needed to ensure that 20-30 years from now the world can still be able to provide for its citizens.
"We can do more! We need cities as partners for innovative financing," said Wilhelm Molterer, Vice President of the European Investment Bank, as he emphasized the need for cities and financing institutions to work together while putting a special focus on integrated approaches towards sustainable resilient cities. Governments and businesses are working towards an integrated solution but problems still need to be addressed. As David Cadman, ICLEI President, pointed out, "There are cities that are not even credit rated and cannot even get loans. This is something we need to fix."
Political leadership from cities and innovation and solutions from businesses: these two forces have to be brought together. WBCSD (World Business Council for Sustainable Development) and ICLEI conducted a survey on "City Leaders Survey on City-Business Engagement for Sustainable Development." The survey points towards a need for a new model of collaboration between cities and businesses. 76% of respondents said the role of business in providing input to the sustainability strategy was very important or quite important, and 85% said that business had a very important or quite important role in supporting strategy implementation. Interestingly, only 48% felt that they were currently very effective or quite effective in working with business to advance sustainability.
Quality of life should be our primary concern when we consider our cities of the future and without company providers urban sustainable development cannot be brought to cities. As Wolfgang Teubner, ICLEI Europe Regional Director, said, "Our key challenge is bringing together our future vision of cities to the reality of today."